Navy Fighter Jet Crashes Into Virginia Suburb In Fiery Wreck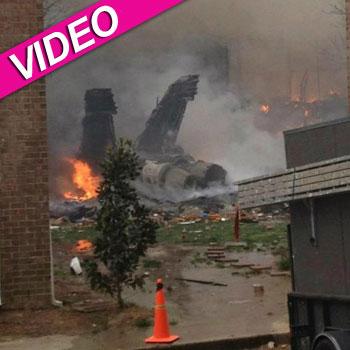 By Debbie Emery - RadarOnline.com Reporter
The two pilots of a U.S. Navy fighter jet that crashed into a Virginia Beach suburb on Friday destroying five houses safely ejected, and RadarOnline.com has video of the dramatic scene.
Despite black smoke billowing around the crash site and two apartment buildings that had collapsed, burning wildly.
"I saw a pilot on the ground with a parachute hanging from the building, with facial lacerations," retired rescue squad member Pat Kavanaugh told CNN affiliate WTKR. "He was in shock and still strapped to his seat."
Article continues below advertisement
Three people, including one of the pilots, have been taken to a local hospital although amazingly none are believed to have life-threatening injuries.
Worth a reported $67 million, the two-seater F/A-18 Hornet jet was from the Naval Air Station Oceana in Virginia Beach, and appeared to have encountered difficulties shortly after take-off.
Watch video of the crash scene below: