Who Was Amelia Earhart? Seven Things You Didn't Know About The Aviator Who Mysteriously Disappeared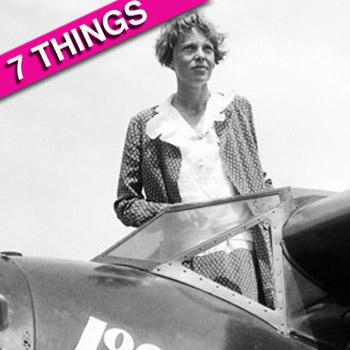 By Debbie Emery - RadarOnline.com Reporter
Fresh clues have sparked renewed fascination in the mysterious disappearance of Amelia Earhart, with a privately funded half-million dollar expedition heading to the South Pacific this July in the hope of finally revealing the fate of the famous female aviator.
As RadarOnline.com previously reported, an enhanced analysis of a photo taken just months after Earhart's Electra plane vanished on July 2, 1937 near the Nukumanu Islands that was uncovered in 2010 from a plane wreck, shows what experts think could be the landing gear of her aircraft protruding from the ocean near where she disappeared.
Article continues below advertisement
While most Americans grew up hearing about the heroics of the woman who "embodied the spirit of an America coming of age," according to Secretary of State Hillary Clinton, RadarOnline.com has compiled seven things that you didn't know about Amelia Earhart.
7. Born in Atchison, Kansas on July 24, 1897, Amelia Grace Earhart grew up answering to the nickname, 'Meeley,' which she kept throughout her life. Another trait that would last for the next 39 years was her rambunctious tomboy personality – something that her maternal grandmother highly disapproved of! Instead of being brought up as "nice little girls," Amelia and her younger sister, Grace Muriel, were allowed to run around the neighborhood in practical bloomers instead of pretty dresses, while climbing trees and hunting rats with rifles.
6. Meeley got her first taste of flying at an early age after her father Edwin took her to the Iowa State Fair and treated his two daughters to their first flight, but sadly the trip didn't go quite as planned, with the outspoken 10 year-old declaring her disgust at the rickety old plane and demanding to go back on the merry-go round.
5. Rocky road: Despite a troubled childhood that included Edwin succumbing to alcoholism and the girls bouncing around different schools, Amelia maintained her boundless ambition as she grew up and kept a scrapbook of newspaper clippings about successful women in predominantly male-oriented fields. In an effort to emulate her heroines, she enrolled at a girls' finishing school but dropped out to become a nurse's aide in a military hospital in Canada during the First World War.
Article continues below advertisement
4. Up, up in the air! Amelia seriously got the flying bug when she went to a stunt flying exhibition at age 20, and was blown away by the aerial acrobatics. After later going for a joy flight with pilot Frank Hawks, she declared, "By the time I had got two or three hundred feet off the ground, I knew I had to fly." Earhart took her first flying lesson in January 1921 and was instantly addicted - six months later she had saved up enough money to buy her first set of wings, a second-hand Kinner Airster two-seater biplane, which she nicknamed Canary because of it's bright yellow color. She soared to new heights in the mechanical bird, setting her first women's record in it by rising to an altitude of 14,000 feet.
3. Call to duty: The phone call that changed her life came in April 1928 when she was asked if she would like to become the first woman to fly over the Atlantic. The fearless female quickly said "Yes!" and was soon soaring out of Newfoundland with joint pilot Wilmer "Bill" Stultz and co-pilot/mechanic Louis E. "Slim" Gordon, landing in Wales 21 hours later in a flight that made headlines around the globe because three women had died earlier that year trying to achieve the same feat.
Article continues below advertisement
2. Love is in the air! In between her blossoming career as a pilot, Amelia kept her feet on solid ground long enough to fall in love with George Putnam and the couple was married February 7, 1931. Luckily her new husband supported her ambitions, and a year later the newlywed became the first woman and second person to fly solo across the Atlantic. Despite landing in a field in Northern Island instead of Paris, she achieved her goal and was honored with the Distinguished Flying Cross from Congress.
1. Expanding her ambitions: After tackling the Atlantic, the world was the next obvious step, and Earhart began planning her grueling 29,000 mile equatorial flight in 1936 while Lockheed built her a special "flying laboratory." She was joined on her first attempt by crewmember Fred Noonan and the pair took off on St Patrick's Day, 1937 from Oakland, California but were unfortunately grounded with a blown tire in Honolulu. Not undeterred, the dynamic duo decided to switch directions and circumnavigate the globe, and set out on their ill-fated trip on June 1. Their last known location was heading towards Howland Island in the South Pacific, where they vanished without a trace after reporting conditions of "cloudy, weather cloudy" and "fuel is running low."
Article continues below advertisement