Horrifying Plane Crash Kills Five People, Scatters Debris Across New Jersey Highway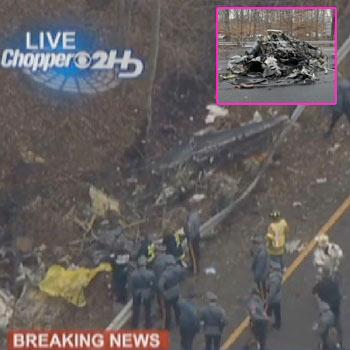 By Debbie Emery - RadarOnline.com Reporter
Tragedy struck on a New Jersey highway on Tuesday when a small plane spiraled out of control and crashed into the median, killing all those aboard.
The group, which was flying from Teterboro Airport to Georgia for the holidays, was made up of Jeffrey Buckalew, 45, and Rakesh Chawla, 36 - who are both managing directors at the New York investment banking firm Greenhill & Co. - as well as Buckalew's wife, two children and a dog, reported the Washington Post.
Article continues below advertisement
Buckalew is thought to have been piloting the plane, which was registered in his name.
Weather is suspected to be the culprit in the deadly crash as the pilot had radioed in to report icy conditions 14 minutes into the flight, just moments before he lost control of the plane, as shocked eye witnesses in New Jersey's Rockaway Township looked on helplessly.
"It was like the plane was doing tricks or something, twirling and flipping. It started going straight down. I thought any second they were going to pull up. But then the wing came off and they went straight down," said Chris Covello, who witnessed the devastation from a nearby car dealership where he works.
Wreckage of the high-performance Socata TBM-700 turboprop could be seen scattered across the road, with some huge pieces hanging in chunks from a tree near the interstate. Debris was found as far as half a mile away from the site of impact.
The Federal Aviation Administration are investigating the accident and have said the pilot had requested clearance to a higher altitude shortly before the plane dropped off RadarOnline.com. The NTSB said the plane had climbed to 17,500 feet.