Seven Things You Didn't Know About Dancing With The Stars' William Levy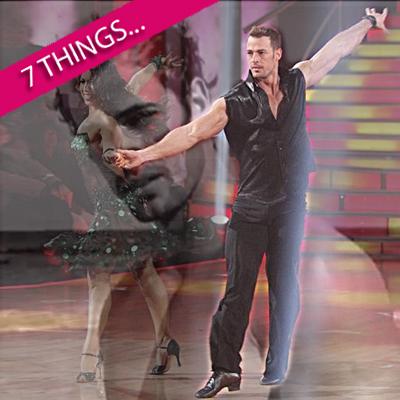 In his debut performance on Dancing with the Stars Monday, hunky Latin model-actor William Levy made a big splash, getting the audience sufficiently hot and bothered during his sexy dance with his partner, two-time champ Cheryl Burke.
That said ... exactly who is this guy? (Even Burke said she had to Google who he was when the pairs were announced.)
With many wondering the same thing today, let's take a closer look at the 31-year-old Spanish telenovela star as he looks to be the next breakout name on the ABC stalwart and achieve mainstream fame in the United States.
Article continues below advertisement
7. He's a Caribbean cutie: Born in Cuba in 1980, Levy moved to Miami, Florida when he was 15-year-old to chase his show business dreams. Other famous Cuban-American actors and actresses include Eddie Cibrian, Christina Milian, Cameron Diaz and Rosario Dawson.
6. He loves our national pastime: Levy says he loves to play many different sports, but none more than baseball. Cuban masters at the game Abner Doubleday invented include 90s sluggers Jose Canseco and Rafael Palmiero, and 2001 World Series hero Luis Gonzales.
5. He's a dashing dad: Levy has two children with Mexican-American beauty Elizabeth Gutiérrez, his co-star on the telenovela Protagonistas de Novela 2 and partner for eight years until they broke up in 2011. His son Christopher Alexander is 5-years-old, while daughter Kailey Alexandra recently celebrated her 2nd birthday.
4. He's spiritually selective: Born Jewish, Levy converted to Catholicism in 2010. As part of as such, he received the sacraments of Baptism, and went through his first Communion and Confirmation at a Puebla, Mexico church.
Article continues below advertisement
3. He's seasoned to scandal: Levy in 2010 sued attorney Steven Lerman and client Karla Alvarez, a woman who claimed he'd forced her to perform oral sex on him and gave her a sexual disease in the process. Levy, who denied the accusations, filed the suit for $10 million, claiming Alvarez and her legal team "maliciously misstated the facts ... to blackmail/extort him into a settlement for alleged acts defendants knew were fabricated and untrue."
2. She's into him: Levy's fame in the U.S., for now, is primarily derived from his appearance in Jennifer Lopez's 2011 video for the song, I'm Into You. In it, he played her love interest (though at 31, he might be a little long in the tooth for that role in real life!).
1. He's called the "Latin Brad Pitt." Like the two-time winner Pitt (1995, 2000), Levy has received the coveted Sexiest Man of the Year award from People magazine en Espanol.
The 14th season of Dancing with the Stars continues ABC Monday at 8/7c.