Who Is Meghan McCain? Seven Things You Didn't Know About The Politician's Daughter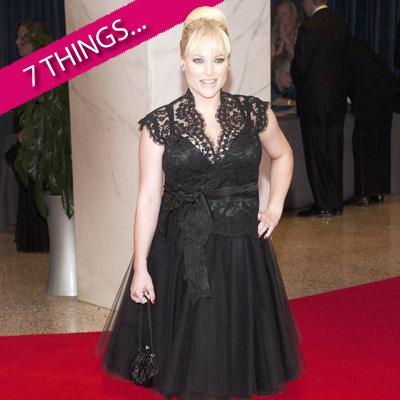 Article continues below advertisement
7. Born on October 23, 1984, in Phoenix, Arizona, Meghan Marguerite McCain is the oldest of Senator McCain and Cindy McCain's four children. After attending the prim and proper Xavier College prep, an all girls Catholic School, she attended Columbia University and earned a bachelor's degree in art history. With dreams of becoming a music journalist, McCain interned at Newsweek and Saturday Night Live but has since turned to more serious topics.
6. She didn't start off a Republican! Despite her father being a household name and Meghan growing up in the spotlight, she was determined to make it on her own and buck "all labels and boxes and stereotypes." The strong-minded teen registered as an Independent when she was 18 and voted for John Kerry in the 2004 election. McCain has openly voiced her views on sex education and birth control, and chastised conservatives for hypocrisy regarding abortion, "They go on and on about how evil and wrong abortion is, but don't like to talk about how easy it is to not get pregnant," she said.
Article continues below advertisement
5. Switching sides in politics! By the time her father ran for president in the 2008 race with controversial running mate Sarah Palin, his loyal daughter changed her party registration to Republican "as a symbol of my commitment to my Dad and to represent the faith I have in his ability to be an effective leader for our country," she revealed.
In what has become her brutally honest signature style, Meghan revealed that she nearly overdosed on the prescription drug Xanax because she was so overwhelmed by stress when the votes were being cast. Explaining that it warned 'For emergency only,' on the bottle, "The day before the election, I thought, 'Well, this is a friggin' emergency,' and I took it," Meghan told Chelsea Handler two years later when promoting her memoir, Dirty Sexy Politics.
4. Not switching sides in the bedroom! Despite rumors that she is a lesbian, McCain says she is straight but remains a strong supporter of gay rights and same sex marriage. Equality is "one of the ones closest to my heart," said Meghan, who posed for the NOH8 campaign in June 2009, along with her mom Cindy.
"You're nobody unless you have a gay rumor about you!" she proudly told Playboy in her interview for the April 2012 issue. "If you see me in a gay bar, it's only because they play the best music and my gay friends like to dance. Gay guys love me. It's the big boobs and blonde hair."
Article continues below advertisement
3. She's got mixed feelings on Sarah Palin: In 2010, she told GMA's George Stephanopoulos: "I do have conflicting feelings about her." On the good side, Meghan said the former Alaska governor "brought so much momentum and enthusiasm to the campaign," in the form of bigger crowds at rallies and "a lot more women coming to the rallies." On the bad side, she said Palin's addition added "drama, stress, complications, panic and loads of uncertainty" to the ultimately losing campaign. "I respect her as a feminist, a Republican feminist, and going out there and working for women, especially Republican women."
2. She's not afraid to speak – or write – her mind. McCain has stepped out of her famous father's shadow in spectacular style and is now a blogger for the The Daily Beast, where she doesn't hold back her feelings on anything, including taking on Republican powerhouse Ann Coulter, and conservative radio host Laura Ingraham, who has bashed the buxom blonde over her weight.
"All I wanted to do is show women that you don't have to be Ann Coulter and Laura Ingraham to have a place in the Republican Party," she told Larry King in a subsequent interview.
Article continues below advertisement
1. She almost quit Twitter: In 2009, Meghan nearly deleted her popular feed on the micro-blogging site because of the backlash she received after posting a picture that flaunted her cleavage. In the pic, she was wearing a low-cut top and holding a book about famed New York artist Andy Warhol with the caption, "my 'spontaneous' night in is my Andy Warhol biography and takeout....I'm getting old." After getting a lot of negative feedback, she dubbed the site a "vessel for harassment" and nearly deleted it, but cooler heads ultimately prevailed. "I am going to take some more time to think about it but seriously I was just trying to be funny with the book and that I'm a dork staying in," she wrote.