Who Is Donald Driver? Seven Things You Didn't Know About The DWTS Competitor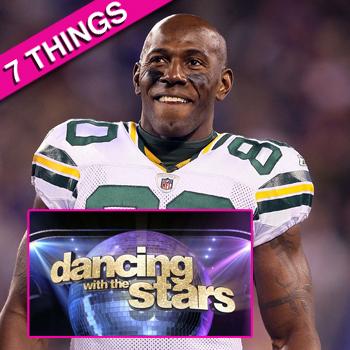 By Debbie Emery - Radar Reporter
What, Brett Favre changed his mind at the last minute again? (We kid, we kid.) 
Filling out the jock slot on the 14th season of Dancing with the Stars is Donald Driver, the steady wide receiver who's been flagging down passes for the Green Bay Packers since 1999, which might as well be an eternity in the rough-and-tumble world of the NFL, where the high chance of injury makes every player on the field a play away from retirement, if not worse.
Article continues below advertisement
Now, Driver -- who sports a Super Bowl ring thanks to the Pack's win over the Steelers last year -- looks to follow in the footsteps of past gridiron stars who've won the ABC show's mirror ball trophy, including fellow receiver Hines Ward and the great Emmitt Smith.
So since it's time to get to know the current batch, RadarOnline.com's got seven things you may not know about the sure-handed man in green and yellow.
7. He was seriously underrated from the start: An absolute bargain for the Pack, Driver was drafted in the seventh round of the 1999 draft, dozens and dozens of names behind such big name flops as Tim Couch, Akili Smith, David Boston ... heck, even one of the Gramatica brothers! Needless to say, he's been a pleasant surprise to Cheeseheads worldwide, providing a stable target for the two big name passers he's worked with in his dozen years as a pro, Favre and Aaron Rodgers. 
Article continues below advertisement
6. He's the proud owner of nearly all Packer receiving records: These things kind of happen when you have a stellar, relatively injury-free career for the same team 12 years and running. Among them, the four-time Pro Bowler is the team's all-time leader in receiving yards (10,060) and catches (735).
5. And caught a history-making pass: Brett Favre lobbed a 7-yard completion to Driver during the Pack's 33-14 thrashing of the St. Louis Rams on December 16, 2007. The grab helped push Favre past Dan Marino on the career passing yards list with 61,361 at the time. Three seasons later, Favre retired with more than 71,000 yards for his career, with only (a hobbled) Peyton Manning within spitting distance of the mark at almost 55,000 yards.
4. Not only can Donald run and catch, the 6-foot-tall wide receiver can jump too! As a college athlete at Alcorn State University, he excelled in track and field, and is now one of the most decorated track athletes in the NFL. In fact, if he hadn't focused on football, he may have been an Olympic medal winner after qualifying for the 1996 Games in Atlanta for the high jump (his highest leap is 7 feet 6 inches), and could have qualified for the Sydney games in 2000, but instead entered the NFL draft the year before.
Article continues below advertisement
3. Dancing with the Stars is far from the Packers player's first time on TV out of uniform: The multi-talented star was named the most marketable athlete in Wisconsin last year, thanks to his hit state-wide analysis show, Inside The Huddle With Donald Driver. His TV fame isn't limited to Packers fans, he's also been featured in marketing campaigns for companies such as McDonald's, Kwik Trip, Goodwill and Jani-King.
2.  He gives back: Driver works hard at putting his money where his mouth is and has funded numerous charities including donating to the Children's Hospital of Wisconsin and Goodwill Industries. Those efforts contributed to him being awarded with the Community Service Award by the Green Bay Chamber of Commerce in 2001, in recognition of his outstanding community involvement. Also that year, Donald and his wife, Betina, launched the Donald Driver Foundation to help sick children with unmanageable hospital bills and provide housing for the homeless. In December of 2003, the foundation put two previously homeless families in new, fully furnished homes.
Article continues below advertisement
1. This big, 194-pound softie proves that football players aren't dumb jocks: Donald has written three children's books inspired by his bedtime reading to this three children. The series follows the adventures of the title character, a little boy named Quickie (a nickname his grandmother gave Driver), and how he handles new experiences such as his best friend moving away, and his first trip to a football game. The beautifully illustrated books are titled, Quickie Handles a Loss, Quickie Makes the Team and Quickie Goes to the Big Game.