Who Is Tim Tebow's Latest Adversary? Seven Things You Didn't Know About Brady Quinn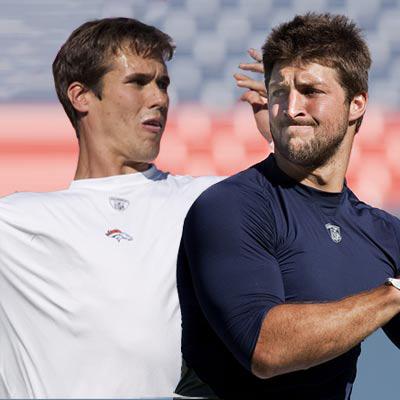 By Debbie Emery - RadarOnline.com Reporter
Tim Tebow has had his fair share of critics for his outspoken views on religion and his skills as a NFL quarterback, and the latest person to call him out is not only the Denver Bronco quarterback's teammate, but also the player fighting for his job.
Brady Quinn, who is currently a back-up QB for the Broncos behind Tebow, put his football cleats in his mouth during a recent interview with GQ for an article on Tebowmania titled 'The Year Of Magical Stinking: An Oral History of Tebow Time.'
Article continues below advertisement
"We've had a lot of, I guess, luck, to put it simply," said Quinn bluntly, before going on to add that he thought fan support was the reason Tebow stole the coveted starting job over Kyle Orton.
"I felt like the fans had a lot to do with that. Just 'cause they were chanting his name. There was a big calling for him. No, I don't have any billboards. That would have been nice."
Even worse than the football comments, was when the fellow Christian, who like Tebow tweets bible verses, criticized how deeply religious Tim drops down in the prayer position after every time he scores, in what has become a fan craze called 'Tebowing.' His faith doesn't "seem very humble to me," commented Quinn.
Not known for confrontations on or off the field, 27-year-old Brady quickly apologized for slamming the high-profile player who led their team to some dramatic comeback wins during last season and the playoffs.
"I apologize to anyone who feels I was trying to take anything away from our team's or Tim's success this season," said Quinn humbly, reported ESPN.com.
Tebow "deserves a lot of credit for our success and I'm happy for him and what he accomplished. Most importantly, he is a great teammate," he wrote on Twitter.
Article continues below advertisement
Quinn went on to claim that he was misquoted: "The resulting story was a completely inaccurate portrayal of my comments. I have addressed my disappointment with the writer and have reached out to Tim to clear this up." However, GQ writer Michael Silver stands by his quotes and says he interviewed his subject on tape.
In light of the drama going down in Denver, RadarOnline.com is bringing you the essential go-to guide to Brady Quinn.
7. Born Brayden Tyler "Brady" Quinn on October 27, 1984 in Columbus, Ohio, he has a famous family: Quinn's cousin is former Home Improvement star Zachery Ty Bryan, who played the role of Brad Taylor on Tim Allen's 90s hit. In addition, his sister Laura is married to Green Bay linebacker A.J. Hawk. (No telling if the in-law thing might have spared Quinn some hellacious sacks over the years.)
6. Not a slow starter: Brady caught the eye of local sports pundits from an early age when he played football at Dublin Coffman High School, where he was listed at number 20 on ESPN's list of the nation's top 100 players as a preparatory student. As a high school junior in 2001, he was able to throw for 2,200 yards and 21 touchdowns, and his senior year was just as stunning as he threw for 2,149 yards and scored 25 touchdowns to lead his team to a 8–3 record and played in the U.S. Army All-American Bowl, after which Quinn was named Ohio Capital Conference Offensive Player of the Year and was an All-State choice.
Article continues below advertisement
5. He's multi-talented! Not only a skilled football player, Brady, now 6'3", also lit up the baseball field while in high school, and was named an All-Conference player and lettered three times. More recently, during the NFL lockout last summer when he wasn't permitted to practice with his Broncos teammates, the successful athlete thought about returning to America's favorite pastime and trying out for baseball's minor league.
4. After his stellar high school career, Brady won a scholarship to the University of Notre Dame in Indiana, where they take the tradition of football almost as seriously as studying. QB Quinn set 36 Fighting Irish records during his four seasons with the team, winning 29 games as a starter at Notre Dame. After a successful year in 2005 under the tutelage of former New England Patriots coach Charlie Weiss, Quinn was nominated for the coveted Heisman Trophy, but placed fourth behind Reggie Bush, Vince Young and Matt Leinart (who all went on to become big names in the NFL).
Article continues below advertisement
3. He fell victim to the Sports Illustrated curse, when after appearing on the cover of the magazine before the beginning of the 2006 season alongside the headline 'Notre Dame: The Battle For No. 1,' he had a disappointing start to the year by losing to arch-rivals Michigan and USC. The Fighting Irish ended with a winning record but Brady lost the final game of his college career when they lost to the LSU Tigers in the Sugar Bowl.
2. He painfully played the waiting game in the 2007 NFL Draft. Considered one of the top players in the country, all cameras were on Brady as he was rumored to be the number one pick, and at the least in the top ten. When numerous names – most notably Ted Ginn Jr. were picked by the Miami Dolphins for a job most thought was Brady's - were called before his, the embarrassed player and his family were moved from the audience into the green room. He was eventually picked number 22 by the Cleveland Browns, but was criticized for looking "unprofessional" with his scruffy hair and chewing gum when he took the stage to accept the offer.
Article continues below advertisement
One of many extreme boom/bust picks in the 2007 draft: While a handful of the athletes taken that year have gone onto historical heights in the NFL (Minnesota running back, Adrian Peterson, Detroit wide receiver Calvin Johnson, New York corner Darrelle Revis & San Francisco linebacker Patrick Willis) Quinn is one of the '07 draft alums to wear the dreaded "bust" label. Others who've fallen well short of their projections five years ago include Quinn, first overall pick JaMarcus Russell, Miami Dolphins receiver Ted Ginn Jr. and chronically injured Washington Redskin LaRon Landry.
2. After an initial holdout, Quinn signed a five-year deal with the Browns worth a reported $20.2 million, with $7.5 million guaranteed and up to $30 million in incentives. His college acclaim didn't win him the starting job, however, and he spent most of his career in Cleveland sitting on the sidelines behind Charlie Frye and Derek Anderson (ironically his first time on the field as a NFL starter was against his future team, the Broncos). Brady finally won the top job in 2009 under new coach Eric Mangini, and boasted a big win over the rival Pittsburgh Steelers.
Article continues below advertisement
In March 2010, Quinn was traded to Denver, where again he sat third in line for the lead behind Kyle Orton and Tim Tebow, who had started every game in 2011 since week 5, while Brady kept the bench warm watching him lead the team to victory.
1. He may not be the top dog in Denver, but Brady is number one in the heart of USA Olympic gymnast Alicia Sacamone, whom he has been dating since November 2009. Both deeply religious, the pair is the perfect match with their sporting success and clean lifestyles. The pretty blonde gave Brady the "Best boyfriend award" in a tweet last October when he caught a red eye flight from Denver to Tokyo to be by her side after she tore her Achilles tendon during a competition. While good girl Alicia is a churchgoer, she showed the world that Tom Brady isn't the only NFL quarterback to boast a smoking hot model on his arm when she posed naked for ESPN's Body issue.