Bill Maher Slammed For Controversial Tim Tebow Tweet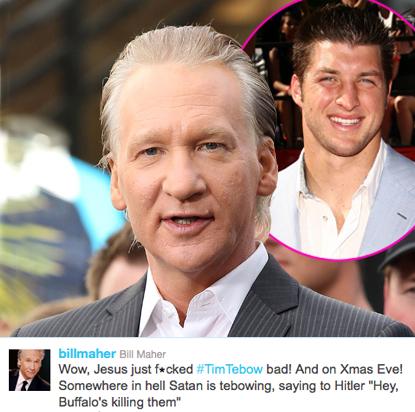 Controversy is heating up about a tweet Bill Maher posted watching Denver Broncos quarterback Tim Tebow's awful performance during the team's 41-14 loss to the Buffalo Bills Saturday.
After Tebow was picked off by the Bills for the fourth time, the HBO host wrote to his more than 872,000 followers, "Wow, Jesus just f---ed #TimTebow bad! And on Xmas Eve! Somewhere in hell Satan is tebowing, saying to Hitler 'Hey, Buffalo's killing them.'"
Article continues below advertisement
The deeply-religious football star didn't acknowledge the tweet on his page, writing after the brutal loss, "Tough game today but what's most important is being able to celebrate the birth of our Savior, Jesus Christ. Merry Christmas everyone GB²." (GB² is Tebow's acronym for God Bless + Go Broncos.)
Maher, an avowed atheist, soon heard it from a barrage of upset Twitter users, as Fox News personality Eric Bolling called the comic "disgusting vile trash" for the message.
"I can't even repeat what he just tweeted about Tebow..on Christam Eve. #straighttohellBill," Bolling wrote.
In the wake of the tweet, a grassroots movement to have his HBO show, Real Time with Bill Maher, cancelled has swelled on the social networking micro-blog.
Real Time with Bill Maher hits the air again January 13.
RELATED STORIES:
Bill Maher Tells David Letterman Elisabeth Hasselbeck Has 'Some Bug Up Her Ass'