Who Is Katherine Jenkins? Seven Things You Didn't Know About The DWTS Contestant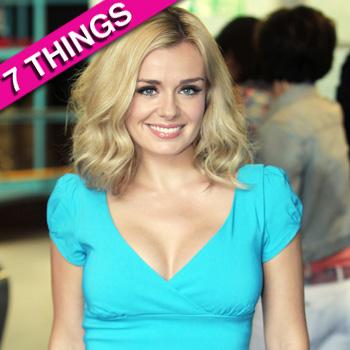 There's a sexy soprano coming to a TV screen near you, and we ain't talking about Jaime Lynn Siegler.
Rather, it's Katherine Jenkins, the 31-year-old Welsh-born opera singer who we learned Tuesday is one of the new competitors on the next season of Dancing with the Stars, as the high-pitched hottie will take to the floor with Mark Ballas.
So before you have a chance to ask "Who is she?" RadarOnline.com's got seven things you may not know about the beautiful and talented Jenkins.
Article continues below advertisement
7. She's a really big deal in the opera world: The mezzo-soprano sold the most opera albums in the UK eight years ago, receiving a then-record offer from Universal for a six-record pact worth more than $1.5 million. To date in her career, Jenkins has to her name, seven studio albums -- six of which topped the UK classical charts -- two compilations and 11 singles.
6. She's tried marijuana -- and did inhale! Katherine told the Daily Mail four years ago that she'd experimented with her fair share of illegal drugs, including marijuana, cocaine and ecstasy. The singer -- calling her experimentation "the biggest regret of my life" said she quit the contraband in 2003, when she inked her first record deal.
5. She's newly single: Shacked up with hunky TV personality Gethin Jones for nearly two years, Katherine became engaged to him in February, but it was over by the end of the year. She tweeted in late December, "Sorry for being quiet of late, its just that I have some very sad news. Geth & I have decided to go our separate ways. We are both beyond broken hearted. All your hugs & support will be much appreciated xxx."
Article continues below advertisement
4. She's crawled catwalks in addition to hitting the night notes: The beauty, prior to deciding opera was the path she should take, explored modeling to some success, being named the Face of Wales 2000. By September of 2007, she was working the runway again, this time for Naomi Campbell's Fashion Relief fundraiser.
3. She's a daddy's girl, through and through: When Katherine was just 15, her beloved father Selwyn passed away from lung cancer. Since finding success, she's never forgotten her late dad, dedicating every award she's ever won in his memory and often writing about him on the liner notes of her albums.
2. She's a survivor: Katherine's had many a scary run-in in her life, none more terrifying than when she was nearly raped while in London. She recalls her attacker followed her off a bus after she finished with her day's studies at the Royal Academy of Music. While she averted the rape, she was robbed and beaten by the man, though she considers it good luck that's all it amounted to. "It was just awful. I was so shaken up. It took me a long time to get over it, and my mum was devastated," she said. "I genuinely believe I was very lucky".
Article continues below advertisement