Seven Things You Didn't Know About Lindsay Lohan's Hook-Up, Terry Richardson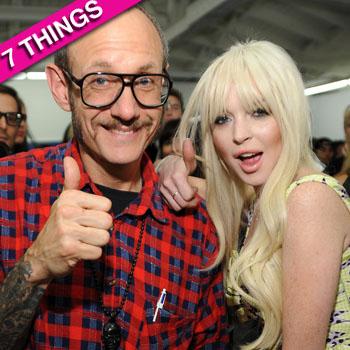 He looks like the guy that approaches you during a fill-up with a gas can and a story, but he's actually one of the world's most successful shutterbugs, having shot dozens of A-list celebrities -- even President Barack Obama -- for the ritziest publications and fashion houses.
He's Terry Richardson, the controversial and enigmatic artist who's in the limelight following a hook-up with another Hollywood hell raiser, Lindsay Lohan. And if a picture is worth a thousand words, stories about Richardson are worth 10 thousand, as he walks the fine line between ingenuous and insanity.
Article continues below advertisement
So sit back, put the kids to bed and find out more about the man who says a lot more than "cheese" to his subjects.
7. He's had some gorgeous lovers: Not exactly one to be confused with Fabio, Richardson's still had some Joel-Brinkley-esque hook-ups with the ladies over the years. Besides LiLo, he was married to model Nikki Uberti and dated actress Shalom Harlow.
6. He rocks out: Prior to picking up his camera, the 46-year-old New York native was a bassist in a punk rock band called The Invisible Government for five years.
5. He's worked for all the big names: The photog, considered by some industry types to be a modern-day Andy Warhol, has worked with magazines like Vogue, Harper's Bazaar and Vogue Paris, as well as retailers like Miu Miu, Gucci, Levi's, Tommy Hilfiger, Nike and Sisley. He's got serious juice in the fashion industry, needless to say.
4. He's not bashful: Richardson's quotes are not exactly fit for church. His take on the fashion industry: "It's not who you know, it's who you b**w: I don't have a hole in my jeans for nothing." As for his critics? "Some people think those images are funny and love them, and some people think they're degrading to women," he said. "And those are great reactions to get, because the same people who are saying that are secretly taking dumps on people or like to drink p**s or whatever: Everybody has their trips."
Article continues below advertisement
3. He's a pseudo porn star: Richardson was caught on camera himself receiving what he called "the best oral sex I've ever had in my life" from legendary porn starlet Vanessa Del Rio. The image appears in her $400 coffee table book, Slightly Slutty Behavior.
2. He's been accused of disgusting behavior: Danish model/filmmaker Rie Rasmussen has said Richardson's more predator than professional when doing shoots with younger models. "He takes girls who are young, manipulates them to take their clothes off and takes pictures of them they will be ashamed of," Rasmussen told the NY Post after she chewed him out at a 2010 fashion function over the beef. "They are too afraid to say no because their agency booked them on the job and are too young to stand up for themselves."
1. He's been accused of REALLY disgusting behavior: Another model Jaime Peck, detailed a run-in with Richardson while modeling for him when she was 19. Among her claims was that Richardson has a menstruation fetish and wanted to make tea out of her tampon. "Of all the fine folks I've frolicked au natural for," the model said, "he's the only one who's left me feeling like I needed to take two showers."