Exclusive
Lindsay Lohan Hooked Up With Photographer Terry Richardson, Wants Relationship But He's 'Not Interested'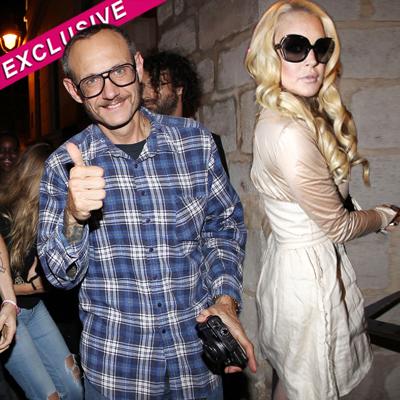 Lindsay Lohan recently enjoyed a steamy night of passion with controversial fashion photographer Terry Richardson and she's eager for a relationship, but the 46-year-old is "just not interested" RadarOnline.com is exclusively reporting.
The troubled 25-year-old actress has had a major crush on Richardson for ages, according to a source, but only managed to hook up with him earlier this year after posing for a steamy photo shoot at the famed Chateau Marmont in Los Angeles.
Article continues below advertisement
"Lindsay and Terry have been friends for years," the source tells RadarOnline.com. "And she's always had a thing for him. Lindsay thinks he's really cool and hip and could be great for her career.
"They had a major night of passion after they worked on this photo shoot together and now she's going all out to get her claws into him. But Terry is just not interested in pursuing a relationship with Lindsay and totally regrets hooking up with her.
"Lindsay has been texting and phoning him nonstop and he's actually kind of freaked out by how strong she's been coming on to him; it's all pretty unseemly. As Terry said, there's nothing more unattractive than a desperate woman. It's a difficult situation though as they move in the same circles and have a lot of mutual friends. He's trying to work out a way to let her down gently without blowing their friendship."
Article continues below advertisement
Richardson, like Lohan, is no stranger to scandal. He has been plagued with allegations of sexual harassment towards his young models over the past decade. Danish model and filmmaker Rie Rasmussen and Jamie Peck, are among those that have gone public with their complaints.
"He takes girls who are young, manipulates them to take their clothes off and takes pictures of them they will be ashamed of," Rasmussen told the New York Post.