NEW BOOK: Christie Brinkley Was Not Billy Joel's 'Uptown Girl'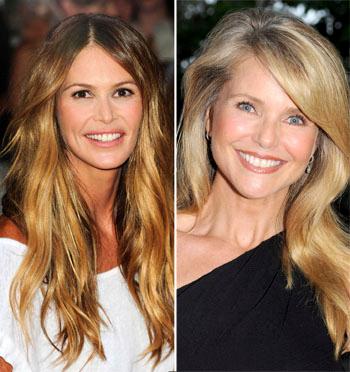 A new book claims to have the answer to one of pop-culture's enduring mysteries: who is the woman Billy Joel sang about in his hit song, "Uptown Girl?"
In "The Girl In The Song" by Michael Heatley and Frank Hopkinson, the authors claim Joel was not singing about Christie Brinkley--who appears in the song's video and was later Joel's wife. Instead, the authors write that Joel was singing about supermodel Elle MacPherson.
Article continues below advertisement
According to the book, Joel was vacationing in the Caribbean when he saw three models that happened to be staying in the same hotel: Brinkley, McPherson and Whitney Houston, who at that time was not a household name. Joel began dating MacPherson, wrote what would become one of his earliest hits, which he planned to name "Uptown Girls" in honor of Elle, plus Christie and Whitney.  But then Joel and and McPherson broke up.  He began dating Brinkley, and renamed the tune Uptown Girl.
The subject was a big Hot Topic on The View.
"Christie Brinkley is in the video where he's singing so he's like cheating on her in the video," Joy Behar joked. "It's all make believe."
The book also suggests other inspiration behind a few other famous songs---claiming Joan Baez was the spark for Bob Dylan's "It Ain't Me Babe" and Leonard Cohen's "Chelsea Hotel No. 2" had its grounding in a tryst between the Canadian crooner and 60's wild child Janis Joplin that occurred at the famous hotel.