Seven Things You Didn't Know About John Carter's Leading Man, Taylor Kitsch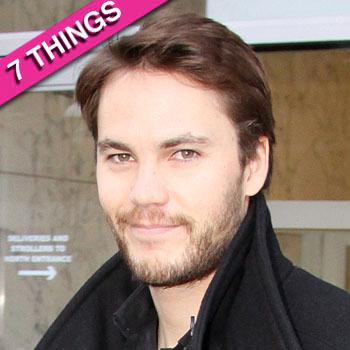 Article continues below advertisement
With the trio of star-making vehicles set to take Tinseltown by storm, it's clear that someone's star is about to shine bright, so before it does, let us fill you in on seven things you didn't know about Mr. Taylor Kitsch.
7. He's the guy from Friday Night Lights: Taylor's first huge break came in 2006, when he was cast in NBC's TV adaptation of the film as hunky running back Tim Riggins. "I loved Riggs!" he told People. He remains great friends with his co-stars from the show, Kyle Chandler, Connie Britton and Zach Gilford.
6. He's a fan of Rihanna's ... acting: Taylor plays opposite the Barbadian beauty, who makes her big screen debut in Battleship. Asked by MTV about how the S&M singer did when the red light came on, he said, "This is a tough one, this is intense -- she's better at acting."
5. He looks like the guy in the Soloflex ad, with good reason: In accordance with his lead role in John Carter, Taylor had to get buff, which he did through a grueling gauntlet of diet and exercise. He told the AP his "brutal" diet for nearly a year consisted of oatmeal, egg whites, protein shakes, dry chicken breasts, yams and brown rice, while going through daily, 90-minute workouts beginning before the sun came up.
Article continues below advertisement
4. He craves the steak -- not the sizzle: Taylor says he wants to be a serious actor without craving the bright hot Tinseltown spotlight at every turn. "There are guys who have set the precedent, that have gotten movies this big that aren't in the light," he said, rattling off names like Christian Slater, Christian Bale and Johnny Depp. "So it can be done."
3. He's spent some time in the penalty box: Taylor suited up for the Langley Hornets of the Canadian British Hockey League prior to suffering a 2002 knee injury that put his hockey hopes on ice. He told the NY Daily News, "I was going to go pro ... I mean, we had offers coming in, so it was quite devastating, but I think a lot of things happen for a reason. One door opened, and acting is a huge passion and always was, but I kind of put it to the wayside because, you know, since you're 3 years old, it's been hockey."
2. Sometimes you do get a second chance to make a first impression: A huge break for Taylor came when he was cast as Gambit in X-Men Origins: Wolverine, but he almost blew it after messing up his lines after showing up to the audition tired, per iMDb. Luckily, his rep persuaded casting agents to give him a second shot, which he delivered on, nailing the part.
1. He was once among the nation's homeless: Trying to get your big break in showbiz can be a long and winding road filled with potholes, as Taylor found out months after migrating to New York City in hopes of catching his big break. He said when friends' couches weren't available, he'd resort to sleeping on the floor of a subway train. "I'd try to stay as low to the ground as possible so the guards didn't see me. I'd get on the subway late at night and sleep for five or six hours."