PHOTOS: Hollywood Hunks With The Sexiest 6-Packs!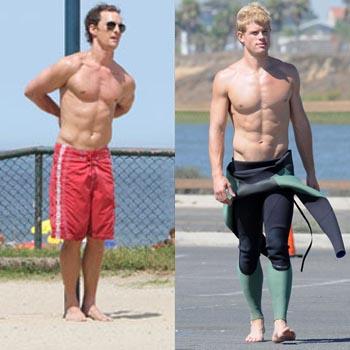 Leading ladies aren't the only ones who feel the pressure to hit the gym in Hollywood!
These sexy Hollywood hunks run, crunch and squat the fat away at the gym to achieve what every woman abs-olutely adores: six pack abs!
RadarOnline.com has photos of your favorite hard-bodied males, stripped down and showing off their muscular midsections.
The most famous tummy in Tinseltown belongs to none other than Matthew McConaughey, who insists on stripping off his shirt whenever he can.
Article continues below advertisement
Devoted to running, pumping iron and yoga, the big screen heartthrob has worked his way into the six-pack hall of fame!
Painfully defined abs are no Mission Impossible for Tom Cruise!
The 48-year-old star was recently snapped on the set of MI4 in Prague, showing off more than just his guns.
With his hard body, it isn't surprising that he scored a wife 16 years his junior!
Twilight hottie Taylor Lautner has all the girls howling whenever he takes off his shirt!
The werewolf wonder underwent one of the most impressive body transformations in Hollywood history to secure his return to the popular film franchise, and it was well worth it.
And sexy David Beckham has been the center of scandal lately, involving allegations that he cheated on his Spicy wife Victoria, but there is no controversy about the fact that he has one of the hottest bods in the athletic world.