Exclusive
EXCLUSIVE COURT DOCUMENTS: Brother Says Woman Lying About David Beckham Affair Denial - 'Emails & Texts To Prove It'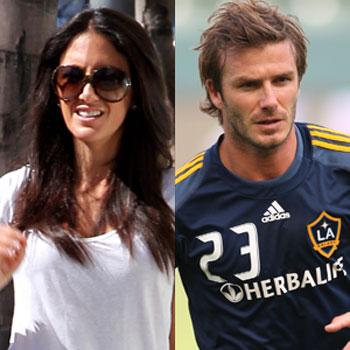 The scorned husband of a Beverly Hills mom alleged to have had an affair with David Beckham has emails and texts that prove the adultery, according to her brother-in-law.
Shery Shabani said in court papers that her husband accused her of having an affair with the soccer star and even tried to run him off the road outside their children's school.
Now, RadarOnline.com has learned exclusively that Shery's brother-in-law, who is a lawyer, claimed in court papers that Shery did indeed have an affair.
Article continues below advertisement
In a new twist, Kamyar Shabani recounted in court papers a conversation with Shery's dad in which Kamyar asked, "if he (Shery's dad) was aware that petitioner had an affair" and that his brother "had emails and texts" to prove it.
This would prove Shery "was lying to her own parents," Kamyar claimed in the court filing.
Shery is friends with the Beckham and his wife, former Posh Spice Victoria; Becks is currently suing a U.S. magazine that claimed he had a one night stand with a Bosnian hooker.
Read Kamyar's court declaration here.
And in an email to Shery, contained in court papers, Kamyar wrote that "you (Shery) are upset that you had an affair and that you want to lash out at me and my family now".
Kamyar and his brother are partners in their own law firm.
As RadarOnline.com first revealed, Shery claimed in court papers that her millionaire husband had "falsely" accused her of a steamy love affair with Becks.
Article continues below advertisement
Shery has branded the allegation "irrelevant and untrue".
But in the email, dated August 31, that has since been submitted to a Los Angeles court as evidence, the brother-in-law said Shery was "lying" and "trying to make yourself out as a saint".
"I admire people who don't go out and cheat, then lie to make money out of it," Kamyar wrote to Shery, a jewelry designer, who has crafted beaded bracelets for Becks.
He added, "Your hiring Matt (a bodyguard) fits into your vision you are a celebrity... It's all made up in your mind."
Read the email here
Shery responded to Kamyar: "It is quite unfortunate it has come to this, but for my part and my effort to maintain whatever peace could remain, I will not respond to this specious email."
In a new declaration to the Los Angeles Superior Court, obtained by RadarOnline.com, Shery detailed the "extremely" affluent lifestyle she lead with Joseph for 12 years, before their acrimonious split in August.
Article continues below advertisement
She admitted the couple's Beverly Hills $12 million mansion was on the most "expensive, exclusive, luxurious and coveted" neighborhoods in the area, "home to numerous celebrities and wealthy individuals including Hugh Hefner and Candy Spelling".
At the time of separation, the pair had five luxury cars, including a Ferrari F430, 2001 Range Rover, 2010 Mercedes SLS, 2009 Mercedes CL 63 and 2008 BMW 5 Series.
Previously, Shery boasted how she had driven a Maserati, Aston Martin and Bentley GT.
While Beckham has dismissed Joseph's affair claims as "full of fantasy", a rep for Shery confirmed to RadarOnline.com that the pair had exchanged emails, but described them as "purely business" related.
As RadarOnline.com broke, Shery faced questions from her soon-to-be ex-husband's lawyer about six secret emails, that have since been removed from the court file.
Article continues below advertisement
Sherry was questioned about the emails during the now settled divorce proceeding, but the judge ordered the evidence be returned to the lawyers and not kept in the court file.
In another declaration to the court, Shery claimed Joseph had tried to ram Becks off the road after he accused her of the fling.
She said the 42-year-old tried to hit the LA Galaxy star's car at the school attended by the Beckham boys and the Shabani's children, 10-year-old Taylor and seven-year-old Tye.