Exclusive
EXCLUSIVE COURT DOCUMENTS: David Beckham Caught Up In Affair Allegations With Victoria's Pal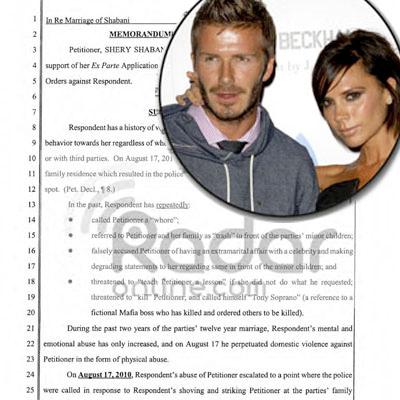 A Beverly Hills mother-of-two is claiming her millionaire lawyer husband tried to run David Beckham off the road after falsely accusing the wife of having an affair with the soccer superstar, RadarOnline.com has exclusively learned.
EXCLUSIVE COURT DOCUMENTS: Read The Court Papers
The wild accusations surfaced after Shery Shabani filed for divorce from her husband of 12 years, Kambiz, 42, who is also known as Joseph.
Article continues below advertisement
The soon-to-be ex-husband was so angry at the supposed affair he even attempted to ram Becks' car, outside their children's private school, in May, court records alleged.
Becks' three kids go to the same school.
Beckham, who is married to former Posh Spice Victoria, later told Shery, a friend, that "his car had almost crashed as a result", it is claimed in the documents filed on August 18, in Los Angeles County Superior Court.
Shery, a jewelry designer to-the-stars who has crafted pieces for the Beckhams and counts the famous couple as friends, has denied ever being romantically involved with the famous British dad-of-three.
She told a court her estranged husband's shocking charges against her and the former England captain are "irrelevant and untrue".
"He (Joseph) has accused me of having extra-marital affairs, most often with David Beckham (which is untrue)," Shery admitted, in the filing.
Article continues below advertisement
"On my most recent birthday, in front of the children, he yelled at me: "I know why you're upset, it's your birthday and you didn't get a text message from David Beckham!"
Shery recounted in the filing how her husband screamed: "Why don't you ask him to send you a picture of his c*ck for your birthday you whore!"
The woman successfully sought a restraining order against Joseph after she alleged that he shoved and struck her during an incident on August 17, forcing her to call 911 for help.
When cops arrived at their mansion, Joseph told the officers that his wife had "f*cked David Beckham" and "he inexplicably demanded that the officers include his statement in their report" so that he could in turn leak it to the media, she alleged.
No report was ever taken, even though she said in the court papers that her one-time lover threatened to "teach (her) a lesson" if she did not do what he requested, "kill" her and even called himself "Tony Soprano" -- a reference to the fictional television Mafia boss, who killed and ordered others to be killed in The Sopranos.
Article continues below advertisement
Shery's mother Elizabeth, in another declaration filed with the court, claimed she heard Joseph on the phone to his parents and brother and was "screaming" about the supposed affair.
The mom wrote, "While in the house, I overheard (Joseph) call his parents and his brother, screaming and demanding that they come over the house immediately because 'Shery f*cked David Beckham'."
Joseph also told the couple's children, Taylor, 10, and Tye, 7, how their mother had cheated on him, according to the court papers.
Shery alleged her husband made "degrading statements" to her, about the alleged affair with Beckham, repeatedly called her a "whore" and referred to her as "trash" in front of their children.
In one e-mail, included as evidence in the explosive 166-page court filing, Shery pleaded with a relative of her estranged husband to "refrain from bad mouthing me" to their children.
When RadarOnline.com contacted Joseph, a lawyer who is a member of the California State Bar Association, to question him about the allegations, he offered "no comment".
Article continues below advertisement
One family friend insisted the claims were "all lies" and Joseph was "simply jealous of Beckham", but conceded, "who wouldn't be?"
Shery told RadarOnline.com: "It's absolutely not true... this is a really nasty divorce, it was a domestic violence situation.
"David Beckham is a nice guy, there is no relationship, nothing. This has nothing to do with David, this is my husband's craziness."
It is the second marital strain to hit the Beckhams in successive weeks, after a hooker claimed the former England soccer captain paid her $2,400 cash to have unprotected sex at New York's Le Parker Meridien hotel in August, 2007.
Becks moved swiftly to rubbish that report, branding the claims "wholly unfounded" and "a series of malicious lies".
He is now suing the woman, Irma Nici, who has provided scant evidence to support her claims -- and the magazine which published the story -- for up to $25 million.
Beckham, who now plays for the Los Angeles Galaxy, has been married to Victoria Beckham, once known as Posh Spice of the Spice Girls, for 11 years.
In a curious twist to the latest development, Becks was photographed wearing jewelry designed by Shery, when he and Victoria took their children, Brooklyn, Romeo and Cruz, to see the Jonas brother's free concert at the Grove in Los Angeles.
Speidi Divorce Called Off: Heidi Not Heading For The Hills, After All
Shery noted on her website, at the time: "David Beckham rocks Shery Shabani's onyx stackable bracelets at the Grove!"