Exclusive
EXCLUSIVE: Secret Emails In David Beckham 'Affair' Slur Divorce Case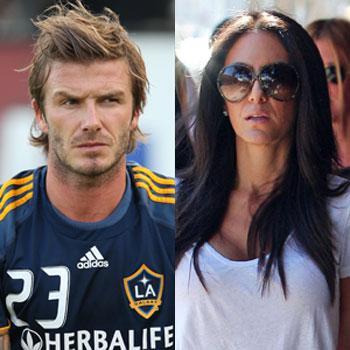 The 'delusional' husband of a Beverly Hills mom -- who denied having a steamy affair with David Beckham -- has submitted emails as evidence in the couple's bitter court battle, RadarOnline.com has exclusively learned.
Shery Shabani, a Victoria Beckham look-a-like, faced questions from her soon-to-be ex-husband's lawyer about six secret emails.
As RadarOnline.com first revealed, Shery claimed her millionaire husband Kambiz, also known as Joseph, had "falsely" accused her of an affair with the former British soccer captain, who is married to Spice Girl Victoria.
Article continues below advertisement
According to a court filing obtained by RadarOnline.com, Joseph tendered to Los Angeles Superior Court the emails, the contents of which have not been disclosed publicly and were removed from the court file.
Read the court documents here.
During a hearing last Wednesday, while Shery was on the witness stand being cross examined, Joseph's counsel, Manley Freid, presented four emails to the court.
Two days later, on Friday, Freid submitted two more emails and a copy of bank checks, as evidence for the judge to consider in the divorce case.
Again, at that time, Shery was in the witness box being quizzed.
It's a further twist in the couple's divorce, after Shery had emphatically denied in an interview with RadarOnline.com, the existence of any emails between her and Becks.
She insisted, "There are no emails, nothing!" and declared it was "so sad and unfortunate" that "lies" were "being told".
Yet on Tuesday, when pressed about the matter, a rep for Shery was forced to admit to RadarOnline.com emails indeed existed between the jewelry designer-to-the-stars and Beckham, who she had previously designed pieces for.
Article continues below advertisement
But the spokesperson said the correspondence was "purely business" related.
"We have no comment on this matter," the rep added.
Shery, married to Joseph for 12 years, also submitted her own evidence: four text message conversations and six of her own emails, RadarOnline.com has learned.
Alleged text messages between Shery and Becks had been at the centre of the couple's feud, according to an earlier declaration to the court.
"I know why you're upset, it's your birthday and you didn't get a text from David Beckham!" Shery claimed Joseph, 42, yeller at her on her birthday.
He added, "Why don't you ask him to send you a picture of his c**k for your birthday, you whore?"
As RadarOnline.com was first to report, Shery -- who counts Becks and Victoria among her pals -- claimed Joseph had tried to run Beckham off the road, wrongly believing they were having an affair.
Article continues below advertisement
Shery, 33, said Becks told her about the incident, which happened outside the school attended by her children and the soccer star's three sons.
EXCLUSIVE COURT DOCUMENTS: David Beckham Caught Up In Affair Allegations With Victoria's Pal
Shery also alleged Joseph had shoved her, in August, at their $12 million 13000 square feet mansion.
When police arrived to the scene, Joseph told the officers that his wife had "f*cked David Beckham" and "inexplicably demanded that the officers include his statement in their report" so that he could in turn leak it to the media, Shery alleged in the court file.
The couple's divorce battle over custody of their two children, 10-year-old Taylor and seven-year-old Tye, was suddenly settled Monday, "freely and voluntarily", according to a file, after a series of closed-door hearings before Los Angeles judge Amy M. Pellman.
In a minute order, it was revealed the evidence has now been returned to Shery and Joseph's counsels.
"Pursuant to stipulation of the parties the Court orders all exhibits returned and held by counsel," the order read.
Article continues below advertisement
RadarOnline.com can also reveal Shery had successfully asked the court to seal sensitive material about the case, the equivalent of a gag order, preventing both parties from discussing it and the evidence, including the emails.
Becks, already suing over lies that he romped with a hooker, has said any suggestion of a relationship with Shery was "total fantasy".
The slur is the latest blow to embattled Posh and Becks, who are already fighting allegations of a seedy threesome involving Bosnian hooker Irma Nici.