Michael Clarke Duncan Memorials Pour Out On Twitter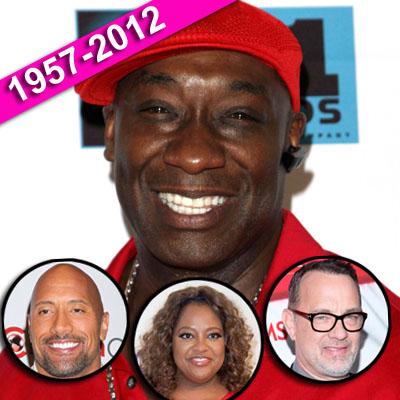 The Hollywood community continues to grieve following Monday's tragic death of Michael Clarke Duncan at 54, and many took to Twitter to express their condolences for the late actor.
As we previously reported, Duncan, who earned an Oscar nomination for his signature role in The Green Mile, died Monday in a Los Angeles hospital, more than six weeks after suffering a July 13 heart attack his rep said he "never fully recovered" from.
Article continues below advertisement
We spoke with his fiancee Omarosa Manigault, who told us she was devastated by his passing, adding, "He was the love of my life."
Green Mile star Tom Hanks issued a statement Monday saying, "I am terribly saddened at the loss of Big Mike.
"He was the treasure we all discovered on the set of The Green Mile. He was magic. He was a big love of man and his passing leaves us stunned."
Among the stars tweeting:
Dwayne "The Rock" Johnson: "When something happens, we always say it happens for a reason" ~ Michael Clarke Duncan 12/10/57 - 9/3/12 I'll miss you my brother.
Jordin Sparks: "RIP Michael Clarke Duncan. Thank you for being so kind to me & for sharing your talent with the world. You will be truly missed."
Russell Simmons: "RIP Michael Clarke Duncan..."
The Newsroom star Olivia Munn: "Michael Clarke Duncan always had a smile on his face & a big bear hug ready for you. My thoughts & prayers are with his family&friends. RIP"
Article continues below advertisement
American Idol winner Phillip Phillips: "R.I.P. Michael Clarke Duncan…..loved his acting. Prayers go out to the family and friends"
Leslie Bibb: "Oh no,just read about #MichaelClarkeDuncan-what a beautiful man, beautiful spirit, lover of animals & funny. You will be missed! #bestlaugh"
Sherri Shepherd: "My heart and prayers go out to you @Omarosa … I remember you telling me how happy you & Michael Clarke Duncan were – so sorry"
Michael Strahan: "RIP to my friend Michael Clarke Duncan. A kind and gentle Giant. A friend that will be missed!! #prayers"
Mario Lopez: "R.I.P Michael Clarke Duncan... One of the nicest & most professional guys I've had the pleasure of knowing. So sad... #ClassAct"
RELATED STORIES:
Director Tony Scott Learned Of Inoperable Brain Cancer Before Suicide Off L.A. Bridge
Sylvester Stallone: Late Son Sage 'Was A Lovely Boy, And I'll Always Treasure That'