Sylvester Stallone Breaks Silence On Sage's Death: It's Very, Very Tough'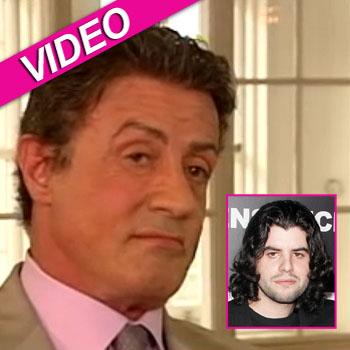 Sylvester Stallone, in his first interview since the tragic death of his son Sage at 36 July 13, said the death has made for a "horrible situation," but he's had support from friends and family in the toughest of times.
"It's tough -- it's very, very tough," the Rocky star told ABC News correspondent Cecilia Vega. "Time, hopefully, will heal, and you try to get through it, but it's just something. It's a reality of life.
Article continues below advertisement
"I think it's important to get back and start reliving your life -- otherwise, you can go into a spiral."
The Expendables 2 leading man was joined in the interview by his co-stars Arnold Schwarzenegger, Jean-Claude Van Damme, Dolph Lundgren and Jason Statham.
"It's so rare to get the old team together," Stallone said. "It's like having a great team and when that combo works, it's so rare and you just don't want to let it go."
Article continues below advertisement