Mary Kennedy's Body Dug Up And Moved From The Family Plot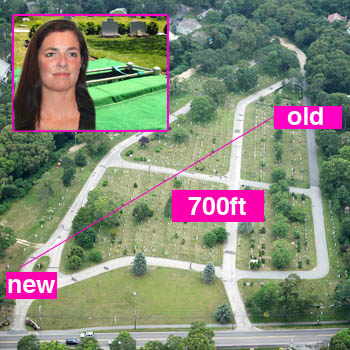 By Debbie Emery - RadarOnline.com Reporter
Unable to find peace in life or death, the body of Mary Richardson Kennedy was dug up and moved from the family plot among the rest of the Kennedys last week, it was revealed on Thursday.
Mary was moved from the Kennedy clan's Hyannis Port, Massachusetts, compound to a remote hilltop part of St. Francis Xavier Cemetery 700 feet away, reported the New York Daily News.
The dark move was made just one day after autopsy reports suggested that the estranged wife of Robert F. Kennedy Jr. may have tried to make a last-minute attempt to stop her suicide by trying to break free from her own strangulation.
Article continues below advertisement
Gravedigger Frank Maki told the Daily News that she will now be spending eternity over the hill in an area where the Kennedy family is now negotiating to buy 50 plots following a request by her husband, Robert.
"He didn't realize how crowded the area was until after the funeral, and he wanted to have the ability to lay his wife to rest among her family members," Maki said. "He opted for an area of the cemetery where there is room for future expansion," he explained, but for the time being Mary will be there alone with no relatives from either side nearby.
Mary's final resting place has been a topic of controversy since her death on May 16, and the latest action by Kennedy came unbeknownst to her siblings.
"We were unaware of this," said attorney Patricia Hennessey, who represented the Richardsons in their attempt to have Mary buried closer to her children's year-round home in Westchester County. "And we were not informed about it."
Aside from late President John F. Kennedy, his wife Jacqueline, and his brothers Robert and Edward -- who are all buried in Arlington National Cemetery -- most of the Kennedy family is buried in Brookline, Massachusetts, JFK's birthplace.
Article continues below advertisement
In recent years, Mary's issues with drugs and alcohol became public after a pair of arrests: for driving while intoxicated in May 2010, three days after Robert filed for divorce; and later that year for driving under the influence of drugs, though that charge was later dismissed. Mary was also upset Robert was involved with actress Cheryl Hines.
Mary married Robert, the nephew of the late President John F. Kennedy, in 1994 on a boat coasting in the Hudson River Valley.