Mary Kennedy's Family: Bobby's Claims Are 'Vindictive Lies'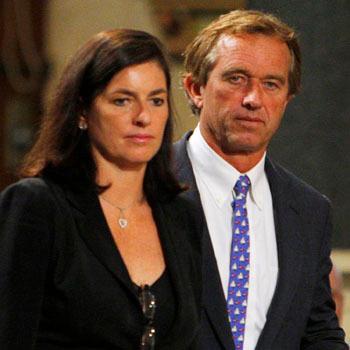 Article continues below advertisement
RadarOnline.com broke the news of her death when she was found hanged in the family barn in Bedford, New York on May 16, 2012.
Mary Richardson's family slammed the Newsweek magazine in-depth account of her relationship with Bobby and her last days, saying it was a "brutal psychological weapon in the divorce case.
"Mary's unconditional love for her children and unwavering support of so many people she held close to her heart are the lasting legacies of her life. Our hearts are breaking for what her children continue to witness. We hoped Mary could rest in peace," the statement said.
"The scurrilous affidavit, which is the entire basis for the Newsweek article, was written by Bobby Kennedy as part of a contentious custody battle and was nothing more than a brutal psychological weapon in the divorce case. The affidavit, which Mary repudiated at the time, is full of vindictive lies. This latest piling on is proof perfect of the unbelievable emotional and psychological abuse that Mary endured during the last years of her life, and now in death. The false claim that Mary suffered from BPD Borderline Personality Disorder is also an insult to those who do struggle with this serious mental illness.
Article continues below advertisement
"Right now, our primary concern is for Mary's children. There will be a time and a place for the true facts to come out."
Bobby claimed Mary's actions were detrimental to the well being of their family and said in the court documents: "On May 26, 2011, Mary ran over and killed the dog, Porcia, in the driveway. She had our youngest son Aidan call me to tell me. He was disconsolate and crying. I asked to speak to Mom, and Mary came on the phone. She said I should come over and spend the night in my old room with the kids who were distraught. She said she intended to kill herself, unless I called off the divorce, and unless I promised to recommit to the marriage. She promised that if I came over she would stay in her room and wouldn't see me or harass me.
"I drove over in a tow truck with my boat on the trailer in preparation for a planned trip to Cape Cod the following day. When I got there, Aidan was in Mary's room. Mary was intoxicated. I opened the door and she leapt out of her bed and hit me with a roundhouse punch that, had I not blocked it, would have undoubtedly broken my face. Pointing to Aidan, she screamed, 'You told this child you didn't love me?' and hit me again, raining blows down on me as I backed down the hall. She struck me maybe 30 more times or more. I moved slowly backward because she was drunk and unsteady and I didn't want her to tumble over the banister. She screamed at Aidan as she hit me. 'He is a demon. He is a demon. He is the most evil kind of man in the world. Everything he does is evil and a fraud. He is a philanderer, an adulterer, a sex addict.' Aidan was crying. I backed down the back stairs blocking her blows—and dodged out the kitchen door. She pursued me, pummeling and pushing me with her fists all the way."