Mary Kennedy's Sad And Violent Last Days - Explosive New Details Leading To Bobby Kennedy's Wife Hanging Herself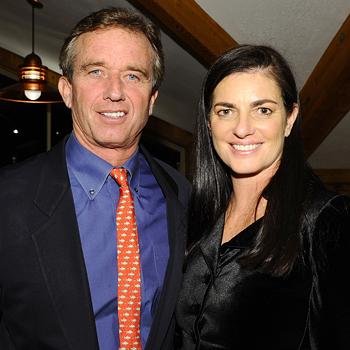 In the months leading up to Mary Kennedy's tragic death, Bobby Kennedy's wife beat her husband, threatened suicide in front of her children, ran over the family dog and drank until she passed out. These are just some of the explosive details in a Newsweek magazine investigation.
The mag had access to the couple's previously sealed divorce papers and also interviewed the housekeeper who, along with Bobby, found Mary hanging in the barn.
Article continues below advertisement
RadarOnline.com broke the news of Mary Richardson Kennedy's death, and of the debilitating depression she was said to have suffered.
But Bobby's claims of violence had previously been hidden in his divorce documents.
In an affidavit filed as part of their ongoing divorce proceedings, Bobby told the court:
"On May 26, 2011, Mary ran over and killed the dog, Porcia, in the driveway. She had our youngest son Aidan call me to tell me. He was disconsolate and crying. I asked to speak to Mom and Mary came on the phone. She said I should come over and spend the night in my old room with the kids who were distraught. She said she intended to kill herself unless I called off the divorce and unless I promised to recommit to the marriage. She promised that if I came over she would stay in her room and wouldn't see me or harass me.
"I drove over in a tow truck with my boat on the trailer in preparation for a planned trip to Cape Cod the following day. When I got there, Aidan was in Mary's room. Mary was intoxicated. I opened the door and she leapt out of her bed and hit me with a roundhouse punch that, had I not blocked it, would have undoubtedly broken my face. Pointing to Aidan, she screamed, 'You told this child you didn't love me?' and hit me again, raining blows down on me as I backed down the hall. She struck me maybe 30 more times or more. I moved slowly backward because she was drunk and unsteady and I didn't want her to tumble over the banister. She screamed at Aidan as she hit me. 'He is a demon. He is a demon. He is the most evil kind of man in the world. Everything he does is evil and a fraud. He is a philanderer, an adulterer, a sex addict.' Aidan was crying. I backed down the back stairs blocking her blows—and dodged out the kitchen door. She pursued me, pummeling and pushing me with her fists all the way."
MORE ON:
Celebrity Justice
Article continues below advertisement
Mary's behavior around her children had become so erratic that the court had ordered she could only see them on visits supervised by the family's trusted housekeeper, who once found her so intoxicated she was passed out in a plate of food.
Mary spent much of her time in bed the last week of her life, the housekeeper, who asked that her name not be used, told Newsweek. She even asked the housekeeper's husband to buy rope and it was later discovered she'd searched the Internet for the proper way to tie a noose.
But on Wednesday, May 16, Mary was not in her bed and was nowhere to be found, so the housekeeper and her husband looked all over. The housekeeper called Bobby and he came over to the house. The three of them searched further, until they entered the barn and found Mary hanging.
"Her suicide was both a statement of hopelessness about her prospects of staying married," Dr. John Gunderson, who treated Mary and diagnosed her with Borderline Personality Disorder, told Newsweek. "It was an angry statement of her perception that she had been abandoned and betrayed. There were two sides to it. One was that she was a horrible person who nobody wanted. The other was that she was an abandoned waif who had been mistreated. And both of these things are inherent in this dramatic suicide."