Autopsy Slated For Junior Seau; Mother Pleads, 'Take Me, Leave My Son'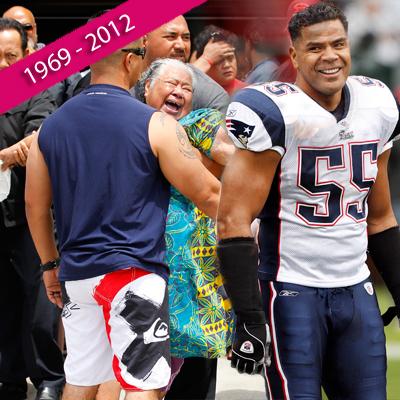 An autopsy will be performed on late NFL star Junior Seau Thursday, a day after police the 43-year-old star linebacker likely shot himself in the chest, and his mother Luisa broke down at an emotional news conference outside the Oceanside, California home he was found dead in.
"I don't understand, I don't understand," Luisa said in the heartbreaking news conference. "I'm shocked. I appreciate everybody showing your love to my son. Junior never do anything bad. I say to you: thank you and you guys for showing your love."
Article continues below advertisement
"I pray to God, 'Take me, take me, leave my son.' But it's too late … too late."
Watch the video on RadarOnline.com
While Seau played for the Miami Dolphins and the New England Patriots, he left his biggest mark in the Southern California area, where he was a standout all-American at USC and 12-time Pro-Bowl selection for the San Diego Chargers.
"We ask everyone to stop what they're doing and send their prayers to Junior and his family," the team said in a statement.