Exclusive
Prescription Pill Bottles Found At Sylvester Stallone Son's Death Scene, No Suicide Note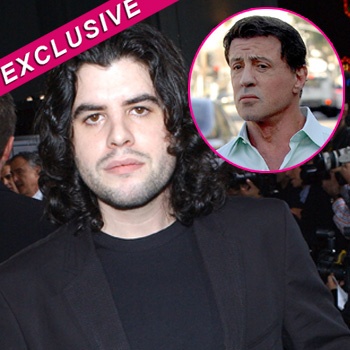 Prescription pill bottles were found at the scene of Sage Stallone's death, but law enforcement sources tell RadarOnline.com exclusively that it does not appear the 36-year-old committed suicide.
As previously reported, Sylvester Stallone's oldest son was discovered unresponsive at his Studio City home Friday, dead from an apparent drug overdose.
The source tells RadarOnline.com that a 911 call was placed shortly before 3 p.m. The caller said Sage wasn't breathing at all and indicated it could be a drug overdose.
Article continues below advertisement
Medics arrived on the scene at 3:05 p.m. and they worked on trying to revive Sage for approximately 25 minutes before the time of death was pronounced.
Sage wasn't taken to the hospital, instead the Coroner was called and his body was taken straight to the Coroner's office.
"I suspect he had been dead for quite a while when he was discovered," the source tells RadarOnline.com. "Usually medics will be at the scene for around 45 minutes but they were out of there within half an hour.
"There were a number of prescription bottles found at the scene but it did not appear to be suicide and no note was found."
As RadarOnline.com previously reported, a close friend of Sage's said the actor appeared to be "healthy and upbeat" when he met up with him just two weeks ago.
"I saw him two weeks ago and he seemed great," the friend said. "He was healthy and upbeat and didn't seem depressed at all.
MORE ON:
Sylvester Stallone
Article continues below advertisement
"I never knew him to do drugs, not even weed, so for him to die from an overdose is kind of shocking to me."
Sage, full name, Sage Moonblood Stallone, was Sylvester's son from his first marriage to Sasha Czack.
An actor, director and producer, Sage appeared in the fifth installment of Sly's biggest film franchise, Rocky, where he played the title character's on-screen son, Robert Balboa.
Most recently, Sage appeared in a 2010 movie called Promises Written In Water and a short titled The Agent.
His short-lived marriage to Starlin Wright in May 2007 was annulled after just 10 months.
Stallone's rep, Michelle Bega, released a statement Friday afternoon: "Sylvester Stallone is devastated and grief-stricken over the sudden loss of his son Sage Stallone. His compassion and thoughts are with Sage's mother, Sasha. Sage was a very talented and wonderful young man. His loss will be felt forever."
RELATED STORIES: