Demi Moore 911 Call: 'She's Convulsing' And 'She Smoked Something'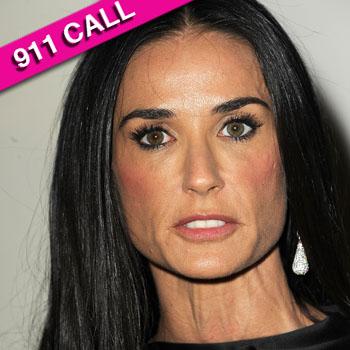 Article continues below advertisement
The caller describes what Demi took. "Some form of edited out and then she smoked something."
The friend then reveals that Demi has been apparently struggling recently. "She's been having some issues lately so I don't know what she's been taking and not telling us."
The caller and people in the background can be heard talking to someone named "Ru" asking her for the phone number and the gate code — which indicates that her daughter Rumer may have been on the scene.
The caller tells the operator that Demi is 49 after asking other people in the room her age, and when asked what she took and if it was an accidental overdose they say "She smoked something but the reaction was accidental."
The operator asks if Demi is breathing normally and the caller responds "No. Not the normal, but more sort of shaking, convulsing to me, but burning up."
The caller says "I'm taking cold water and putting it on her back she is burning up I don't know what is making her do that."
Article continues below advertisement
There was confusion between the fire departments about which station should go to the house, but the ambulance arrives at the gate right after the male caller says that Demi is doing better. "Ok. She seems to be…she seems to have calmed down and is speaking…she is much calmer…now she's breathing fine she's not convulsing she's talking fine, she's leaning up."
Listen to the 9-1-1 call below:
radar_embed service=5min.com src=" http://pshared.5min.com/Scripts/PlayerSeed.js?sid=1126&width=486&height=412&playList=517713477&sequential=1&shuffle=0"