Jaws Is Back! Great White Caught On Tape Off Cape Cod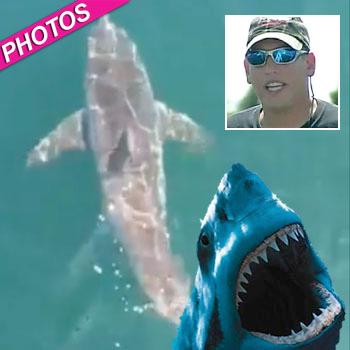 By Debbie Emery - Radar Reporter
While television viewers have been glued to Discovery Channel's Shark Week, fishermen off Cape Cod caught what is likely a real-life great white shark on tape and RadarOnline.com has the impressive video footage.
Jeffrey Richardson, of Sandwich, Massachusetts, hit the high seas on the harpoon boat Cynthia C onTuesday, and while the crew was looking for tuna – they found something far more dangerous, reported WCVB.com.
Article continues below advertisement
The fishermen were about three miles from Barnstable when they spotted the huge shape gliding gracefully through the water, creating eery shadows under the surface.
Quick-thinking Richardson started filming the ocean's most deadly predator on his cell phone and captured 15 minutes of footage tailing the huge fish as it swam four or five feet below the water line.
"It was unreal. I'm like, 'A great white shark in Cape Cod Bay?'" incredulous Richardson told WCVB. "Four miles offshore? That's crazy."
When the Cynthia C was following the shark, it suddenly turned on them and became aggressive,revealed the fisherman. "It got very aggressive. It turned on the boat, turned away from the boat and kept swimming," said Richardson, who described it as "a 12-foot great white shark, about 1,000 to 1,200 pounds."
Shark expert Greg Skomal wants to see some additional video to verify the species but said, "We are pretty confident that it is a great white shark," adding, "We do not have many sightings from Cape Cod Bay.
Article continues below advertisement
"We have historical sightings within the Bay, but certainly the first in a few years," heexplained.
Experts confirmed another great white sighting earlier this month off Ballston Beach in Truro when a Chicago man was attacked. Chris Myers and his teenage son were swimming toward a sandbar about 500 yards off the beach when the father was badly bitten in the leg, but the injury was not life threatening.
The latest sightings have added to the shark craze that is gripping the nation.
This week marked the 25th anniversary of Discovery's Shark Week, making it one of the longest running events on cable television. Meanwhile, Steven Spielberg's iconic underwater horror 1975 Jaws – which was set on Cape Cod - was released on DVD for the first time on Tuesday.
RELATED STORIES: