Survivors Of Terrifying Plane Crash Capture Their Miraculous Escape On Video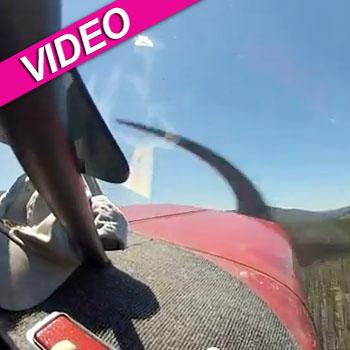 By Debbie Emery - RadarOnline.com Reporter
In the modern age of cell phone cameras many dramatic accidents are now caught on film, but not usually by the people involved!
The survivors of a small plane crash managed to record their miraculous escape to show just how close their brush with death was, and RadarOnline.com has footage from the harrowing seven-minute video that has gone viral.
The dramatic footage shows the plane taking off from a dirt runway in the Frank Church River of No Return Wilderness in Idaho on June 30, where the men had spent the day hiking in the wilderness and were heading to the nearby small mountain town of MaCall for dinner, reported NBCNews.com.
Article continues below advertisement
Around two minutes and 40 seconds into the video, the plane begins to drop and then crashes into the trees, while a startled passenger can be heard in the background asking, "Everybody OK?" from inside the wreckage.
"Within five seconds we're on the ground, upside down, hanging from our seat belts," the pilot's son, Tol Gropp recalled.
In a scene that is reminiscent of the shaky camera shots of faux-real movies like The Blair Witch Project and Paranormal Activity, several minutes later one of the men retrieves the camera and films the pilot lying on the ground with his head resting on a log and his face and arm covered in blood. His eye appears blackened and the wreckage of the Stinson 108-3 is in the background.
"The first time you see it it's kind of surreal because it's full speed, you know, it's seven seconds, it's not very much time," Tol Gropp said of the actual crash. "Probably watched it a couple of hundred times."
He and fellow passenger, Alec Arhets, escaped with cuts and bruises, 38-year-old Nathan Williams suffered a concussion, while the pilot, Les Gropp, 70, had a broken jaw, broken ribs and a fractured cheekbone, but is expected to make a full recovery.
Article continues below advertisement
Williams later described the blessed group as "just four guys who are lucky to be alive." Crediting his dad for grounding the plane without anyone getting fatally injured, Tol revealed: "You certainly feel like we were watched over that day."
The men suspect that the plane had a difficult time gaining altitude because of warming temperatures and may have hit an air pocket that made it rapidly loose altitude, pushing it down into the trees.