Travis Barker Still Traumatized By Horrifying DJ AM Plane Crash; 'I've Got To Get Over It'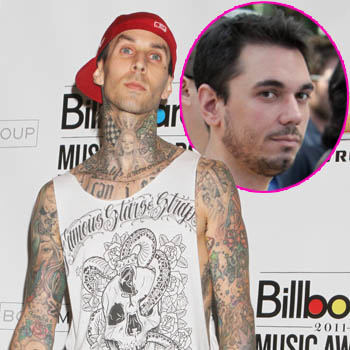 It's been more than four years since Travis Barker and DJ AM survived the fatal 2008 plane crash that killed four other passengers, but the Blink 182 drummer is still severely traumatized.
The musician opens up about the aftermath of the crash and how it has affected his life and family in the August 2012 issue of The Red Bulletin, revealing that even his children are afraid to fly – and RadarOnline.com has the details.
Article continues below advertisement
Barker, who has relied on ocean liners instead of airplanes to get him across the Atlantic, admits that his phobia has affected the success of his band.
"I'm not flying, so it's hard to say what the band potential is, because I can't really get anymore," he explained, revealing that he is contemplating 'getting knocked out and getting on a plane to Australia.'
"I want to overcome that eventually. When I do, I think it is going to be Australia. I trust Qantas. They never had a crash, never had a fatality – knock on wood."
He also reveals that his trauma has affected not only himself and Blink, but also his family.
"It's something I want to overcome for me – and my kids are scared to death to fly. I want them to witness me overcome it."
"I've got to get over it, man. I could simply say I'm not going to fly for the rest of my life. I'm not going to. It's something I honestly want to try to put behind me."
As RadarOnline.com previously reported, a month after the horrific ordeal DJ AM sent an email to a close friend confessing he felt "survivor's guilt" for not dying that day.