VIDEO: John Travolta Not Making Friends At Qantas With New Video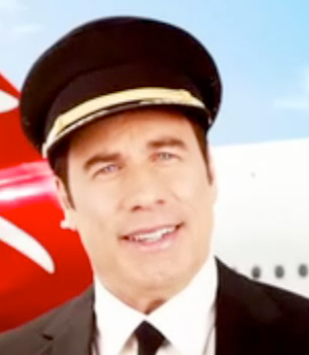 John Travolta may be the Goodwill Ambassador for Australia's Qantas Airlines but that doesn't mean flight crews want him fronting their new safety video, RadarOnline.com has learned.
The actor, wearing his Qantas pilot's uniform, makes the opening comments in the airline's new safety video, shown to passengers before take-off on each flight.
"This is your captain speaking - well, maybe not today," Travolta begins. He adds that "the guys on the flight deck and the greater team care just as much about aircraft safety as I do."
Article continues below advertisement
The Hairspray star, 57, also notes that he been flying "over 40 years as a pilot."
The problem, reports Australia's Daily Telegraph, is that Qantas flight crews find the video "corny," "cheesy," "tacky" and even "demeaning." And they haven't been quiet about it.
Numerous employees have posted their feelings on online chat boards. "The whole thing seems to make the safety message seem trite," wrote one. "We feel it is demeaning to be called 'the team.' It makes us feel like we work at McDonald's," wrote another.
Many felt the airline should have used their personal hero, Capt. Richard de Crespigny, credited with saving 466 passengers and crew when he successfully landed his Qantas jumbo jet after losing an engine last year.
None of the Qantas crew attacked Travolta personally. It's the airline's choice that has them irate. But a Qantas spokesman says there are no plans to change the video. "We think it's really engaging," she said.