JetBlue Pilot In Mile High Meltdown Deemed Mentally Fit To Stand Trial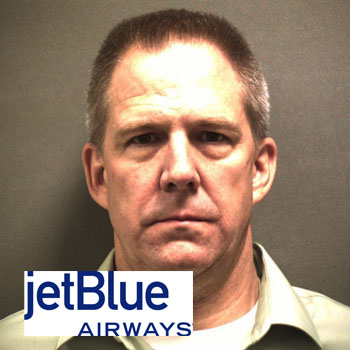 By Debbie Emery - RadarOnline.com Reporter
JetBlue pilot Clayton F. Osbon spiraled out of control earlier this year in a mid-air meltdown that put the lives of a plane full of passengers at risk, but despite his crazy rantings about terrorists and religion, a federal court judge deemed him legally competent to stand trial on Friday.
U.S. District Judge Mary Lou Robinson issued her ruling in the Amarillo, Texas, courtroom in response to a court-ordered evaluation to determine if the pilot from Richmond Hill, Georgia, was sane at the time of the mile high melee, which occurred on March 27 during flight 191 from New York to Las Vegas.
Article continues below advertisement
Osbon, 49, has been charged with interfering with a flight crew, which is defined as assaulting or intimidating the crew, interfering with its duties or diminishing its ability to operate the plane, reported FoxNews.com.
The veteran of the skies displayed what passengers and fellow crew members described as erratic, bizarre and disturbing behavior, telling them, "We're not going to Vegas" and running through the cabin yelling about Jesus and al-Qaida.
MORE ON:
Celebrity Justice
Osbon's attorney Dean Roper previously filed a motion notifying the court that he plans to use an insanity defense at the trial, which has not yet been scheduled.
With his feet shackled during Friday's hearing, Osbon looked more gaunt than the last time he appeared in court two months ago. He remains in custody and faces 20 years in prison if found guilty.
Although suspended immediately after the incident, JetBlue Airways spokeswoman Sharon Jones said Thursday that Osbon remains an employee and his status is inactive.