JetBlue Pilot Taken From Hospital To Texas Court In Handcuffs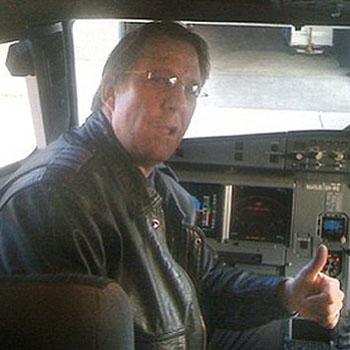 By Debbie Emery - RadarOnline.com Reporter
The JetBlue pilot who terrified passengers with his mid-air meltdown left the hospital in handcuffs on Monday morning to make his first appearance in an Amarillo, Texas courtroom.
During his arraignment, Clayton Osbon was remanded to the custody of the U.S. Marshal at the Randall County Jail, reported CBSNews.com, and no bond was set. He had previously been receiving medical evaluation at the Northwest Texas Healthcare System.
Article continues below advertisement
As RadarOnline.com previously reported, Osbon's panic attack last Tuesday on Flight 191 led authorities to divert the JFK-Las Vegas flight to Amarillo following the captain's hysterics. He has since been charged with interfering with a flight crew and now faces up to 20 years in prison.
The troubled pilot from Richmond Hill, Georgia, was joined in court by several JetBlue employees who were there to show their support and also by his wife, Connye, who released a statement on Sunday thanking everyone who had helped him.
"We would like to recognize the Crew and passengers of Flight 191 for their effective yet compassionate handling of the situation," Connye said in a statement on behalf of Clayton's family, reported RadarOnline.
"It is our belief, as Clayton's family, that while he was clearly distressed, he was not intentionally violent toward anyone. We know you were placed in an awful situation and we appreciate your ability to respond professionally."
Article continues below advertisement
Osbon is scheduled to have a detention hearing Thursday, April 5 at 9:30 a.m. Prosecutors will have to prove not only that Osbon interfered with the flight crew, but that he had the mental capacity to understand what he was doing, and that it was wrong, reported CBS.
The issue of whether the meltdown was caused by medical reasons or any substances he ingested will also be investigated.
"The FAA (Federal Aviation Administration) has a very stringent list of medications - drugs that they are allowed to take while they are actually on flying status," said CBS News aviation and transportation safety analyst Mark Rosenker, a former National Transportation Safety Board head.