Jersey Shore's Vinny Helps Miley Cyrus Get Over Fear Of Flying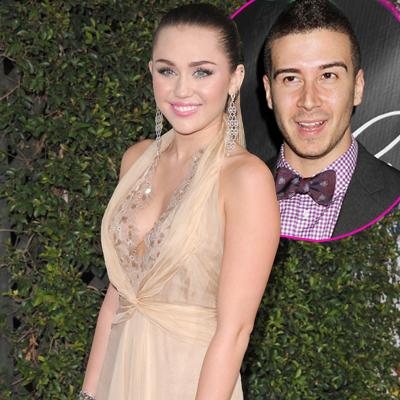 He's the most mild-manned member of the revelrous Jersey Shore cast; she's the once-mild-mannered teen queen whose occasional revelry makes headlines.
And they're Twitter pals.
Yes, Hanna Montana met the Jersey Shore on Twitter early Friday, as unlikely pals Miley Cyrus and Vinny Guadagnino carried on a heavily re-tweeted dialogue about air safety after Miley voiced her concerns about boarding a plane.
Article continues below advertisement
Miley, 19, wrote, "Why do I have an anxiety attack everytime I step on an airplane. I just gotta remember what @tishcyrus says... Angels are under the wings."
Vinny, 23, then responded with, "it's all Good bro.. U Have a better chance or getting struck by lightening then Getting hurt on a plane."
Miley finished his thought, writing, "or a coconut falling off the tree and hitting me in the head. Did you know more people die of that then shark attacks?!"