Miley Cyrus Denies Boob Job, Tweets: 'These Babies Are All Mine'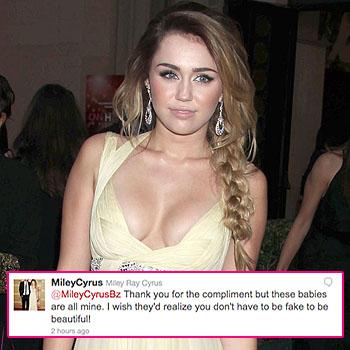 By Debbie Emery - Radar Reporter
Miley Cyrus' eye-popping cleavage at Sunday's CNN's Heroes 2011 awards event prompted speculation from numerous surgeons that she has gotten breast implants, and now the teenage singer is responding on Twitter, claiming she is all natural.
"Thank you for the compliment but these babies are all mine. I wish they'd realize you don't have to be fake to be beautiful!" the 19-year-old Hannah Montana star tweeted on Tuesday.
Article continues below advertisement
The comment was a response to comments made to Star magazine by three different plastic surgery experts who believe she has actually gone under the knife to boost her bust after she turned heads as she walked the red carpet in a yellow Roberto Cavalli dress with her boyfriend, Liam Hemsworth.
"Her breasts are very nice and round and it looks like she has had them done," said cosmetic physician Dr. Tahl Humes of Vitahl Medical Aesthetics in Colorado. "If you look at the volume, it appears she has had a breast augmentation.
Michael Niccole of Orange County, California's Cosmeticare agreed, telling Star: "It appears that Miley has recently undergone breast enhancement surgery."
And, New Jersey-based board certified plastic surgeon Dr. Brian Glaat said the Disney star "does indeed appear to have had a breast augmentation," noting her breasts are fuller and show more cleavage than before.
"The outline of the implants are clearly visible in the inner lower portions of her breasts," Glaat added. "Even a large weight gain would not produce breast enhancement to this degree without implants!"