Stonergate! Miley Cyrus Defends Kelly Osbourne After 'Threatening' Tweets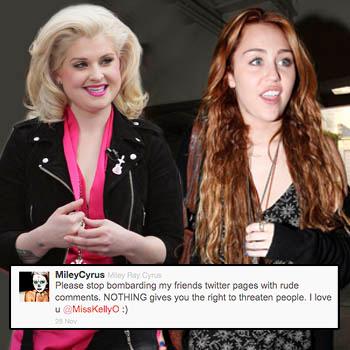 By Alexis Tereszcuk - Radar Senior Reporter
Miley Cyrus is firing back at fans who have threatened her good friend, Kelly Osbourne after the controversial birthday cake she presented to Miley spawned rumors of illegal drug use.
The former Disney star was filmed at her 19th birthday party on November 22 saying: "You know you're a stoner when your friends make you a Bob Marley cake -- you know you smoke way too much f***in' weed."
Article continues below advertisement
As RadarOnline.com previously reported, after Miley's risqué comment, Kelly jumped straight in, quipping: "I thought salvia was your problem, Miley."
After a firestorm erupted, Osbourne took to Twitter, claiming that Miley's pot comments were a joke and that she isn't a marijuana smoker: "Let me make something very clear after @MileyCyrus salvia incident we started calling her Bob Miley as a JOKE! The cake was also A JOKE."
That set off haters, who sent Kelly nasty Tweets, prompting Miley to jump to her defense: "Please stop bombarding my friends twitter pages with rude comments. NOTHING gives you the right to threaten people. I love u @MissKellyO :)"
Kelly also wrote: "It makes me sick that @MileyCyrus so called 'friends' would sell her out and lead people 2 believe she is someone that she is not! 
"U guys if @MileyCyrus is not recording/filming/touring she is works everyday how could she possible do all that if she was a stoner! #think."
Article continues below advertisement
The Hannah Montana star came under fire previously for alleged drug use after she was caught on video last year, smoking the legal hallucinogenic herb, Salvia, out of a water pipe.
"I'm having a little bit of a bad trip," a disoriented Cyrus said in the video. "Is that a Liam look-alike -- is that my boyfriend? Is that me tripping? Does that look like Liam at all? I want more of that s---."
She later apologized to her fans, telling Marie Claire magazine: "For me it was a bad decision, because of my fans and because of what I stand for."