Hannah Marijuana? Nope -- Miley Cyrus Is Smoking Salvia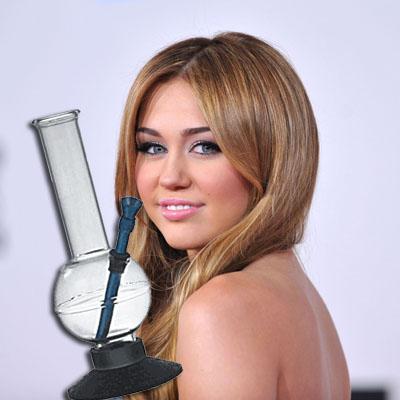 Miley Cyrus was videotaped inhaling smoke out of a water pipe during a post-birthday bash at her Los Angeles house.
The video, which was posted on TMZ, was reportedly recorded by a friend. It's believed a third party copied the video from the camera.
The Web site reported that sources told them the Hannah Montana star was not smoking marijuana, but rather salvia, an herb said to have hallucinogenic qualities (And yes, it's legal in California).
Article continues below advertisement
"I'm having a little bit of a bad trip," a rambling Cyrus said in the video. "Is that a Liam look-alike -- is that my boyfriend? Is that me tripping? Does that look like Liam at all? I want more of that s---."
So what's all the fuss about the mystery substance Miley was smoking?
Salvia divinorum is also referred to as Diviner's Sage, ska María Pastora, Seer's sage, or simply, salvia. It's consumed via chewing, smoking, or brewing, giving it a mild to extreme psychedelic effect, depending on the user.
PHOTO: Willie Nelson's Mug Shot After Latest Pot Bust
While it's illegal in 12 states and classified as a controlled substance in Delaware, New York, Louisiana, Missouri, New Jersey and Tennessee, it's commonly sold over the Internet, usually at a rate of $5 per gram.
According to a National Institutes of Health study, salvia was originally used in rituals for shamans in Mexico, and is progressively gaining steam as a recreational drug.