Exclusive
PHOTOS: Miley Cyrus, Ali Lohan & More: Too Sexy Too Young? Experts Weigh In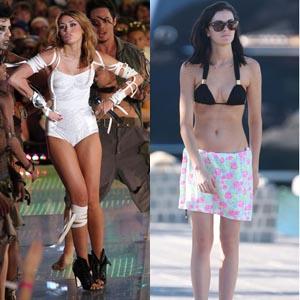 Miley Cyrus is leading the pack of teen stars who seem to be following a trend of beyond-their-years sexy dressing, raising the question: are these girls living a life that is too sexy, too soon? RadarOnline.com spoke to a clinical social worker and reality TV star and model Adrianne Curry to weigh in on the growing group of sexy youngsters.
Paul Royer, a licensed clinical social worker, expressed concern over the images that young girls see today. "There isn't a whole lot of wholesomeness left out there," he said.
Article continues below advertisement
Miley's outfits have become more outrageous over the past few months as she promotes her upcoming appropriately-named album Can't Be Tamed. She has also been known to pole dance on stage and simulates kissing other females during shows.
Reality TV star and model Adrianne Curry was bolder in her critique of Miley's new wardrobe choices: "I wouldn't wear some of the s--t she's wearing, it looks like hooker s--t from the street."
Moyer added: "She's obviously been in a situation where she's received attention for being the cute little girl...she is a normal young girl who is trying to figure out relationships, dating and what she wants and where she wants to go."
Nickelodeon star Jamie Lynn Spears became pregnant at 16 and the news sent shockwaves across the country. Royer said that he was concerned about what her pregnancy reflects about today's youth. "She's a young girl, she's vulnerable, she's in some relationship- the point is that with all the information out there today you have to really wonder what's going on inside that kid's head that they put themselves in that situation."
Article continues below advertisement
Ali Lohan is another teen whose behavior has been suspect. She is often out at night partying with her big sis Lindsay who takes her to clubs and bars and lets her wear any of her extra skimpy clothes. Both Royer and Curry agree that the Lohan parents are not providing the proper guidance for young Ali. "It's the parents' responsibility to make sure that all their kids have structure and rules and discipline. I would say that it must be very challenging for Ali when there's a lot of attention given for certain types of behavior for her older sister and maybe in this family this is how you get noticed."
Curry agreed: "Lindsay and Ali, I just point directly at their mother. I mean she parties with her kids and has been since Lindsay was a little kid and is pushing this poor little girl Ali to take the same path as Lindsay. Lindsay's f---ing totally lost right now and I don't even know her to have to know that. The apple doesn't fall far from the tree and when the parents condone the behavior that's only something that you're going to be able to erase through many, many, many, many years of counseling."
Article continues below advertisement
Gossip Girl star Taylor Momsen is taking her rocker chick look to the extreme with flesh-baring outfits that are too sophisticated for a young girl, even a rocker one. Adrianne remembers her own childhood. "When I was a teenager I dyed my hair every color on earth. It was the 90s'. I don't know if you really want to copy off Courtney love. To each their own. I think for performers it is funny. Say Lady Gaga were to walk the street, it's artistic and wonderful because it's Lady Gaga. For Taylor, people would be like 'f---ing whore.'"
Kendall Jenner hopefully isn't following in the footsteps of her older sister Kim Kardashian in the sex tape department, but she is out and about in the most revealing outfits- sometimes baring more skin than her older sisters! Royer explained it is usually the family that is influencing someone so young.
"That's what has been normalized within the family. This is how you get attention, it's all about how you look and all the money you try to make. We have these people who have no value and we give them all this status and we give them all this money and we throw them out in front of the media and you take a vulnerable 13-year old who is looking for people to emulate."
Adrianne added: "I think the Kardashians are very brilliant with their fame whoring. Let's just put a title on it. Anyone who lives their life in front of the camera is a fame whore and it works and you make money from it. I don't know, 13 is a little bit young to be dressing differently. But it isn't the sisters' fault. They're not Kendall's parents."
Despite his critique, Royer said the struggle for these young celebrities to grow up appropriately is one faced by all girls their age: "They're just normal young girls who worry about the normal things these girls worry about."