PHOTO: Willie Nelson's Mug Shot After Latest Pot Bust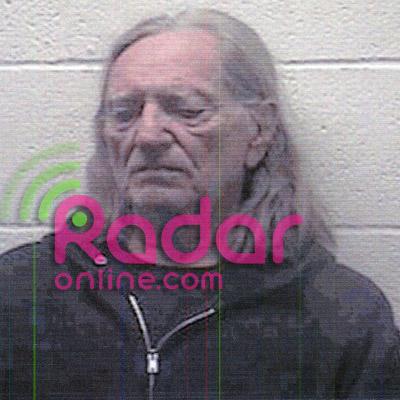 We've got the mug shot taken after country music legend Willie Nelson was arrested at a Border Patrol checkpoint in Sierra Blanca, Texas, for allegedly possessing six ounces of marijuana.
As RadarOnline.com previously reported, Nelson, 77, was traveling in his tour bus from California to Austin, Texas when he was detained by Border Patrol agents Friday morning.
The 10-time Grammy Award winner was charged with a misdemeanor and booked into the Hudspeth County Jail. He was later released after posting a $2,500 bond.
Article continues below advertisement
Hudspeth County Sheriff Arvin West told a local newspaper: "He could get 180 days in county jail... If he does, I'm going to make him cook and clean."
It's not the singer's first run in with the law, as Louisiana authorities searched Nelson's tour bus back in 2006, and found about a pound-and-a-half of marijuana and mushrooms.
Nelson has long been an advocate for the legalization of marijuana. "It's a matter of time, a matter of education, a matter of people finding out what cannabis, marijuana is for, why it grows out of the ground and why it's prescribed as one of the greatest stress medicines on the planet," the singer said in 2008.