VIDEO: Zach Galifianakis Smokes Pot On Live TV!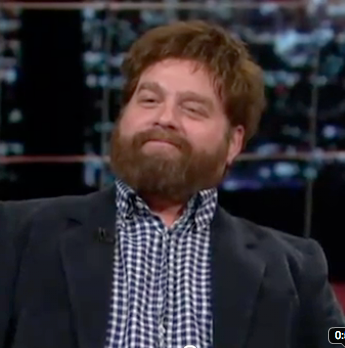 Zach Galifianakis scored what may be a TV first Friday night, lighting up a joint on Bill Maher's HBO show, and you can watch the video here on RadarOnline.com.
Maher, who is extremely open about his own pot use, had The Hangover star on as a guest and the discussion turned to California's ballot measure, Proposition 19, which would make marijuana legal in the state.
Galiffianakis, there to promote his upcoming flick, Due Date, casually pulled a joint out of his pocket and lit up!
Article continues below advertisement
And just to make sure no one thought it wasn't the real thing, the funnyman tried to pass the joint to another guest, conservative Republican Margaret Hoover, whose eyes bugged out. She couldn't stop laughing as she took a whiff, while declining a puff.
MSNBC host Lawrence O'Donnell -- another of last night's Real Time with Bill Maher guests -- pointed out Prop 19 is predicted to go down in flames Tuesday.