Exclusive
EXCLUSIVE PHOTOS: Drake Bakes? Witness Claims Rapper Was Smoking A Joint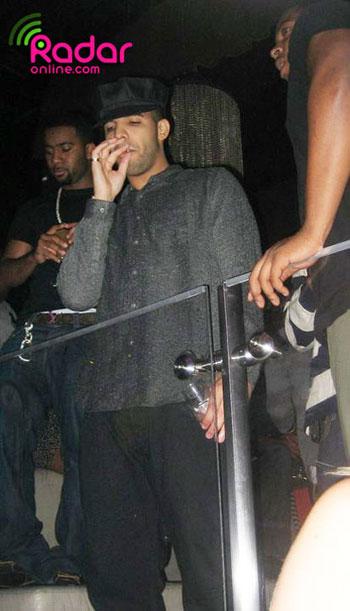 Actor-turned-rapper Drake hit the clubs after his concert last month and RadarOnline.com has obtained the exclusive photos in which an eyewitness says he was smoking marijuana.
Drake and his entourage partied at Miami Beach hotspot Liv Nightclub in the Fontainebleau Hotel where a source says the rapper openly lit up a joint.
"I was sitting in the VIP section right next to Drake and he lit up a joint and began to smoke it freely," the source tells RadarOnline.com.
Article continues below advertisement
"The whole area smelled like weed!"
According to the witness the night continued with "popping bottles, good music and dancing" with rapper Bow Wow also in attendance.
Drake got his start on the hit TV show Degrassi: The Next Generation before topping the charts with hits such as Best I Ever Had and Miss Me.
The Canadian rapper kicked off his "Lights, Dreams and Nightmares" tour in Miami on September 20, 2010.
Whether it was marijuana the rapper was smoking or cigarettes, Drake still committed a no-no – On July 1st, 2003 a Florida State law went into affect banning smoking in restaurants, bars and nightclubs.
When contacted by RadarOnline.com for comment on the September 21 incident, Drake's reps had no response.
RELATED STORIES:
Drug-Sniffing Dog Busts Comic Ralphie May For Pot Possession