CONFIRMED: Liam Neeson In, Mel Gibson Out Of Hangover 2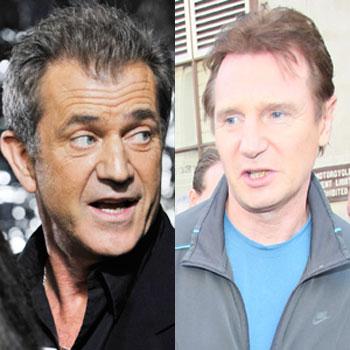 As Mel Gibson was unceremoniously ousted from making an appearance in the next installment of The Hangover, the film is now set to get another A-list actor - Liam Neeson, RadarOnline.com has confirmed.
"It's true pending clearance of cast and crew background check," Neeson's rep told RadarOnline.com.
The Clash of the Titans actor is filling Mel's shoes after Warner Brothers Pictures, Legendary Pictures and the film's director Todd Phillips revealed the controversial Oscar winner had lost the support of the cast and crew to make a cameo.
Article continues below advertisement
'The A-Team' Is An Action Packed Summer Blockbuster
Neeson told Daily Variety that his A-Team co-star Bradley Cooper, who will also return to the record-breaking film to star in The Hangover 2, reached out to him regarding the role.
"I just got a call to do a one day shoot on Hangover 2 as a tattooist in Thailand, and that's all I know about it," Neeson told Daily Variety. "I just laughed my leg off when I saw The Hangover, I was shooting in Berlin earlier this year and rented it on the hotel TV."
Neeson left New York on Thursday to fly to the Hangover 2 set.
In a recent statement, Phillips said, "I thought Mel would have been great in the movie and I had the full backing of WB president Jeff Robinov and his team. But I realize filmmaking is a collaborative effort and this decision ultimately did not have the full support of my entire cast and crew."
Zach Galifianakis was reported to be upset with the decision to cast Gibson in a cameo.
Article continues below advertisement
He recently told Comedy Death-Ray podcast host Scott Aukermanthat: "A movie you're acting in, you don't have a lot of control - you just show up and vomit your lines out. I'm not the boss. I'm in a deep protest right now with a movie I'm working on, up in arms about something. But I can't get the guys to listen ... I'm not making any leeway."
The Hangover 2 is set for release on May 26, 2011.
RELATED STORIES AND AUDIO: