Man Dressed As 'Breathalyzer' For Halloween Busted For DUI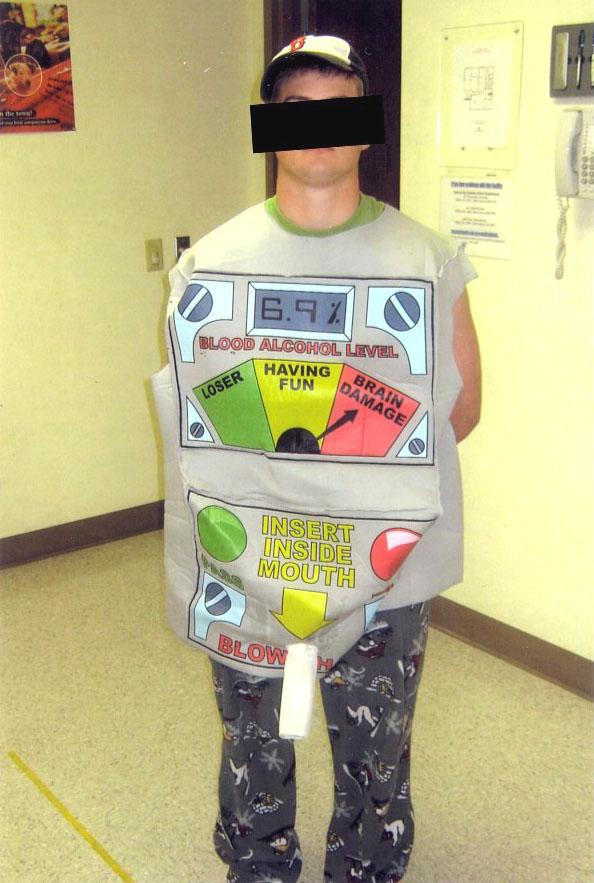 Seriously - this really happened.
A Nebraska teenager - dressed as a portable Breathalyzer machine on Halloween - was busted for drunk driving.
Matthew Nieveen, 19, was arrested early Monday for DUI and for being a minor in possession of alcohol.
He was taken into custody after a police officer in Lincoln, NE noticed he was driving erratocally and pulled over his Ford F-150.
Article continues below advertisement
Police gave Nieveen a citation and released him. They did not take a mug shot of him, but instead asked him to pose for this photo with a blacked out face.
According to the police report, he was slurring his speech and had glassy eyes when he was pulled over. In his truck, cops found empty beer cans and a bottle of vodka that had been partially drunk with Mountain Dew.
Nieveen's blood alcohol level was more than twice the state's .08 limit.
Police say he had attended a Halloween party prior to his arrest, and that this is his second DUI offense.
Last Halloween, an Ohio college student wearing a similar Breathalyzer costume was arrested for drunk driving and underage drinking.