Miley Cyrus Strikes Back At 'Fat' Comments, Loves Her 'Womanly Curves'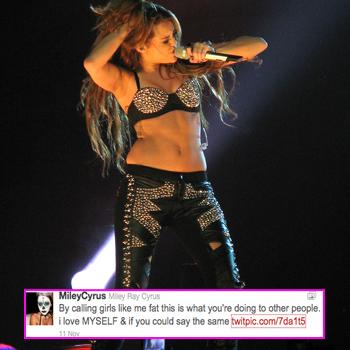 Miley Cyrus is happy with her body, and she wants everyone to know it.
After being slammed for adding a little bit of swerve to her curves, the Hannah Montana star is standing up to her bullies by waging a Twitter war against them – and RadarOnline.com has the details.
"By calling girls like me fat this is what you're doing to other people," the teen superstar tweeted earlier this week along with a photo of a skin-and-bones model. "i love MYSELF & if you could say the same you wouldn't be sitting on your computer trying to hurt others."
Article continues below advertisement
Miley also posted a photo of Hollywood bombshell Marilyn Monroe with the message "PROOF That you can be adored by thousands of men, even when your thighs touch."
The chart-topping singer has the support of fellow Disney darling and pal Demi Lovato, who has admitted to battling an eating disorder in the past.
"@ddlovato AMEN! I will destroy any one that ever calls you the F word. You have the SEXIIIESTTTT curvyyyy body! I LOVE IT! #werkthosecurves" Miley tweeted.
Lovato responded, "@MileyCyrus god I love you. SO DO YOU!!! And whoever called you that has it coming. Miss you more than ever," adding "ps SO proud of you for posting that!"
Miley's final words of wisdom on the subject were posted on Saturday.
"I don't wanna be shaped like a girl I LOVE being shaped like a WOMAN & trust me ladies your man wont mind either ;)"
RELATED STORIES: