46 And Fabulously Fit! Halle Berry Reveals The Secrets To Her Hot Body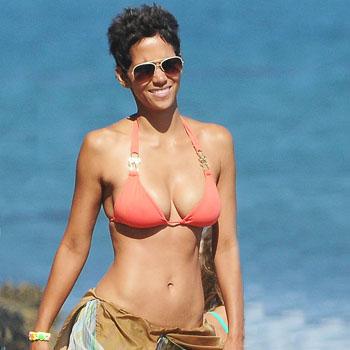 Halle Berry is 46 and sexier than ever!
The Academy Award winner reveals how she keeps her body looking bangin' and her self-confidence in check as she closes in on 50 in the November 2012 issue of InStyle, and RadarOnline.com has the details.
"I work out with Nat Bardonnet three times a week, an hour at a time. I do cardio, very light weights, and exercises that use a lot of my own body weight," she explains about her workout regiment.
Article continues below advertisement
"I just try and keep everything lean and toned – the days of trying to get a body are done."
As for her diet, Halle, who is a diabetic, keeps everything healthy.
"I'm a Whole Foods shopper all the way," she explains. "Products will claim to be good for you, but when you look at the ingredients, they're loaded with sugar."
As for getting older in an industry filled with fresh and young faces, Berry avoids looking at younger women as competition.