Weight Loss Winners & Sinners! The Best & Worst Celebrity Diet Spokespeople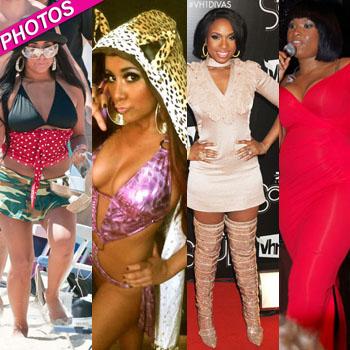 Pick your spokesperson carefully when it comes to weight loss!
It's no secret that Kim Kardashian, who recently tweeted about dropping 6 pounds with the help of QuickTrim, is one of the diet drug's spokespeople, but she isn't the only Hollywood star to promote a weight loss method. RadarOnline.com has before and after photos as well as details about Hollywood's best and worst celebrity diet spokespeople of all times.
Article continues below advertisement
Jennifer Hudson was the Dreamgirl diet spokesperson for Weight Watchers! Rising to international stardom as a full-figured, soulful singer on American Idol, she shocked the world when she dropped close to 100 pounds in just a few years with the help of the weight loss program. Now an Oscar winning actress and devoted mom, she has managed to keep off the weight.
Mariah Carey, who is famous for her yo-yo'ing weight wars, scored a deal with Jenny Craig after gaining pregnancy weight with her twins Moroccan and Monroe. Though the divalicious dieter has managed to get her hot body back, she was definitely a risky investment because of her history.
Jersey Shore star Snooki became a pop culture icon when The Jersey Shore took over MTV. The pint-sized star, who was famous for showing off her curvy figure in skimpy outfits and bikinis, shocked her fans when she lost a massive amount of weight with the help of Zantrex-3. Now, months after giving birth to her first baby boy, the reality star has already gotten her body back!
From diet spokeswoman to dessert company owner? Singer Carnie Wilson, who has struggled with her weight for most of her life, managed to lose her campaign with The Fresh Diet when she decided to sell cheesecake while on contract.
"Carnie Wilson was let go as spokesperson for The Fresh Diet after losing only 19 lbs on the program -- and then gaining it all back (plus some) after she launched her own cheesecake company," said Ezzy Duchman, spokesperson for The Fresh Diet. "If you're baking cheesecake and selling it, then you can't promote a diet company," he added.
Which other stars are the best and worst diet spokeswomen? Find out by clicking here.