Workout Secrets Of The Stars! How Celebs Got Their Hot Bikini Bods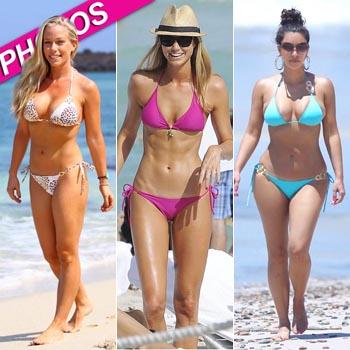 How do Hollywood's hottest stars get their perfect 10 bikini bodies?
From reality bombshells and big screen babes to the sexiest singers in the world, these hot-bodied stars can rock the skimpiest swimsuits to perfection, but not without breaking a sweat!
Our friends at OK! Magazine have learned all the slim-down secrets of your favorite celebrities, which they reveal in their Hollywood's 50 Hottest Bodies issue, on newsstands now, and RadarOnline.com has photos and a sneak peak of 10 bikini babes and their get fit tricks that are featured in the sexy special issue.
Article continues below advertisement
Bona fide bikini babe Kim Kardashian has some of the most talked about assets from the Pacific to the Atlantic, but she has to keep them toned and taut. The reality star, who is a longtime client of celebrity personal trainer Gunnar Peterson, does intense circuit training that mixes cardio, weights and sprinting to keep her famous butt looking tight and her midsection taut. She also stays motivated by making exercising a family affair. "If I am going to the gym, I'll call my sisters and say, 'Who wants to go with me?'" she dished to OK.
How does George Clooney's gal pal keep her body looking bangin'? Stacy Keibler was gifted with a gorgeous body, but works with trainer Juliet Kaska to keep her curves sculpted. Her biggest trick? "In L.A., we have tons of great outdoor staircases, some of them going up many flights," her trainer spilled. "They're great for outdoor workouts!"
Not your average Girl Next Door, curvalicious Kendra Wilkinson dropped major weight after giving birth to her first child with the help of yoga. Her latest obsession is Bikram yoga, which she practices in a 120-degreee room. "I know it's a little extreme, but I am obsessed with it. I love it. And it works!" She dishes.
Find out how all of Hollywood's biggest stars get their hot bodies by picking up a copy of OK! Magazine's Hollywood's 50 Bodies special issue, on newsstands now.