Woman Loses Whopping 100 Lbs In Four Months After Pregnancy With Triplets & Breast Cancer!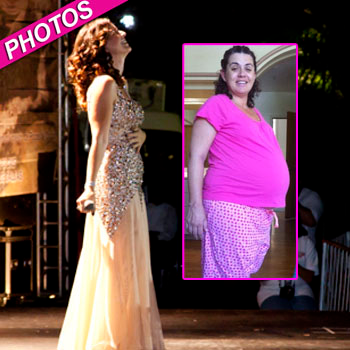 Talk about determination!
A woman who struggled with her weight her whole life, fought two battles with breast cancer and gave birth to triplets, dropped a whopping 100 pounds in just four months!
Fabiana Passoni is sharing her amazing weight loss story, which she says began as a child when she started gaining weight and yo-yo dieted for years, and RadarOnline.com has the details.
Growing up in Brazil, Fabiana said that she accepted the fact that she was overweight.
Article continues below advertisement
"From that point on, I really started to gain weight. I moved from Brazil to the United States to try to further my singing career and in no time at all I doubled my weight, going from just plain old fat to super fat. I was a size 28 and was fine with it," she told the Huffington Post.
She was on a rollercoaster with dieting, losing 100 pounds then gaining 100 pounds back but then she got married and was diagnosed with breast cancer the first time.
"I started eating more again to counter what happened during each week of chemotherapy and more weight came back," she said.
"Then, a year later I was pregnant with triplets, so I was eating for four. I gained more than 100 pounds during the pregnancy. On top of that, one week before I delivered, I found another lump in my breast - another reason to seek solace in food. The cancer was back."
Fabiana went through radiation therapy and beat cancer for a second time.
Article continues below advertisement
"Just after that, when I weighed in for my appointment with the oncologist, I was shocked to see 294 on the scale again," she said. She said that was when she found her savior.
"I heard about BodyMedia from a friend and immediately ordered one. I could track every morsel of food I ate, every minute of exercise and even whether I was getting a good night's sleep. It was like having a doctor, nutritionist and personal trainer supporting me right there on my arm!
"Each day I tried to burn more calories than I ate. I would also try to trick my metabolism by changing the amount of times that I would eat," she explained.
"One week, I would eat five small portions a day of vegetables, almonds, egg-white omelets, chicken and fish, and the next week I would eat bigger portions but three times a day.
"I included some plyometric exercises and different weight routines in my workouts. The weight melted like butter on a hot summer day. It was absolutely amazing, and after about four months I had lost that 100 pounds again."
Article continues below advertisement
Fabiana was selected as the Best Brazilian Female Singer living in the U.S. by the Brazilian International Press Awards, and she decided that she wanted to drop even more weight for the red carpet.
She has now lost a total of 125 lbs. and says this is the height of her happiness.
"Now I am a healthy, cancer free, mother of triplets having the best time of my life - and in the best shape."
RELATED STORIES: