ON YOUR RADAR 2012: Biggest, Shocking & Most Dramatic Celebrity Break-Ups Of The Year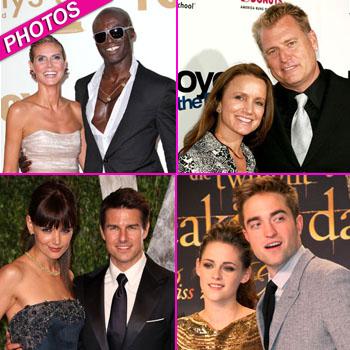 By Jon Boon - Radar Reporter
We've all been through a break-up and had our heart broken by someone we really cared about – and celebrities are no different!
In 2012, we saw a spate of celebrities whose relationships had fizzled out, their loved ones just weren't that into them anymore or they preferred the company of another.
Everybody thought Johnny Depp and Vanessa Paradis was a golden couple. Her sassy French ways seemingly complimented his bohemian, "I'm a pirate," stylings. Add two adorable kids, Lily-Rose and son Jack and you would've thought nothing could go wrong. But, 14-years into their relationship Depp and Paradis ended it – and reports starting surfacing shortly after that he was having an affair with Rum Diary co-star Amber Heard.
Article continues below advertisement
Another two we would have put money on going the distance – Heidi Klum and Seal. Despite a fiery marriage with ups and downs, it appeared that the pair was still madly in love. They had three biological children, Henry, Johan and Lou, while Seal had adopted Heidi's daughter Leni and they seemed the most likely of all Hollywood couples to make it to old age together. But in January they announced they were going their separate ways and shortly after Heidi began dating bodyguard Martin Kirsten. Seal accused Heidi of having an affair with Kirsten, who Heidi has said she's now madly in love with! It's like an episode of Maury!
Article continues below advertisement
To check out all the biggest, shocking and most dramatic celebrity breakups of 2012, click here.