Exclusive
Chad 'Ochocinco' Johnson & Evelyn Lozada Officially Divorced!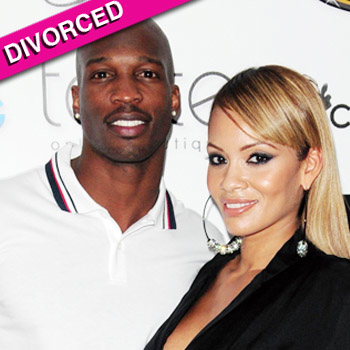 Chad Johnson and Evelyn Lozada are officially divorced!
Just last week the former NFL football star Chad "Ochocinco" Johnson was willing to do anything to stay married to Evelyn, but his efforts didn't work, and RadarOnline.com has confirmed that a judge has signed off on the divorce papers Wednesday morning.
"It was a very simple process," his attorney Adam Swickle told RadarOnline.com. "They are formally divorced in the state of Florida. It was a three to five minute hearing and that's the end of it."
Article continues below advertisement
The couple married on July 4th of this year and split after only 41 days after Lozada learned of his cheating.
Johnson was spotted in Miami recently wearing a shirt reading "I just want to love you," a message to his estranged wife, and when that didn't work, Johnson went so far as to tattoo her face onto his calf.
But it appears that all of his grand romantic gestures were for nothing, and they are officially no longer husband and wife.
A prolific Tweeter, Johnson posted a picture of himself in a suit with the caption "Love Never Look So Good," but made no reference to finally being a single man again.
As RadarOnline.com previously reported, Chad has been a serial cheater during his relationship with Evelyn, and even had a sleepover recently with his mistress Bianca Zuluaga, skipping a recent court appearance to spend the morning with her at IHOP.
Article continues below advertisement