Evelyn Lozada Was Shocked Chad 'Ochocinco' Johnson Cheated So Quickly!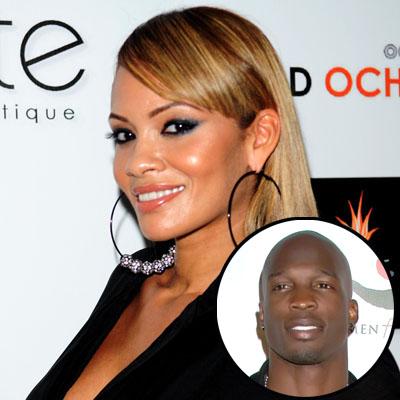 By Debbie Emery - Radar Reporter
After sticking to her vow of silence following the domestic assault attack at the hands of estranged husband Chad "Ochocinco" Johnson, Evelyn Lozada is finally opening up and dishing on the details of the violent night that sparked the downward spiral of her marriage.
The evening of August 11 started off normal for the newlyweds who had only walked down the aisle 41 days earlier, "I was going to cook dinner: salmon, mashed potatoes and a tomato mozzarella salad," the Basketball Wives star told People magazine as she recalled the short-lived domestic bliss. But while unloading the grocery bags, she was stunned to discover a receipt for condoms purchased not long after they were married.
Article continues below advertisement
"I'm not naive," said the tough-talking 37-year-old. "I didn't think he was going to be perfect, but three weeks after we were married? I felt like he was not even trying."
Evelyn wasted no time and demanded a divorce that evening, which is when Chad allegedly flew into a rage, grabbed her face and head-butted her in the forehead, resulting in her getting five stitches at the ER. "I had blood in my eyes, I was tasting it.
"I remember realizing, oh my God, the news is going to get out. I was so humiliated."
As RadarOnline.com previously reported, the six-time Pro Bowl receiver was arrested by Davie, Florida police and released from jail on $2,500 bond. He was cut by the Miami Dolphins within 24 hours and Lozada filed for divorce from the NFL star just days later.
Now the shamed 34-year-old wide receiver is desperately trying to win his wife back by getting an image of her face tattooed on his calf, while changing his Twitter profile to: "I'm not perfect... I'm not a role model... I'm not into acting yet... Oh and i love all of that from the E to the N," which some say means Evelyn.
Article continues below advertisement
"It is his way of trying to get her back but instead of being romantic it's just creepy and weird," a source exclusively told RadarOnline.com.
Johnson appears determined not to let go of Evelyn, no matter how many times he has wronged her. On Wednesday he responded to a Twitter follower who asked why he had gotten a tattoo of Evelyn post split. "Divorce? Child please... that's my WIFE," he tweeted adamantly. "I don't give a flying pretzel in skittle rainbow hell what she filed for.
"I never had it to begin with, i march to the beat of my own drum, F public opinion…" Chad wrote later in the day.
Despite exclusive revelations by RadarOnline.com that the shamed NFL player had been cheating on her with a string of mistresses that he met on Twitter, including a stripper whose rent he was paying and a woman whom he flaunted at his local hangouts and high school football reunion, Evelyn says that their relationship was genuine and not played out for the cameras.
Article continues below advertisement
"One day we took a helicopter ride to Key West for breakfast," said Lozada, defending the man she became engaged too just four months after meeting him on Twitter. "He was a very romantic and sweet guy."
However, Johnson also had a dark side that the reality star had witnessed before when she had confronted him about his flirtations with other women on the social networking site. "I always knew (to back down) when he got that look in his eye. It was scary," she told People.
As Radar revealed following the couple's explosive split this was not the first time he had allegedly hit her. "Chad has been abusive towards Evelyn basically from the beginning of their relationship," a source close to the couple said, adding that the "marriage was volatile in nature and a mistake from the start."
Still carrying the scars of his alleged temper on her forehead, Lozada is now determined to put the past behind her. "You learn from it… I'll always have a love for him," she admitted, but when it comes to physical abuse, "I don't care what the argument is or who the man is, that should never be tolerated."