Evelyn Lozada Feels Bad For Chad 'Ochocinco' Johnson, 'His Life Is Now A Mess'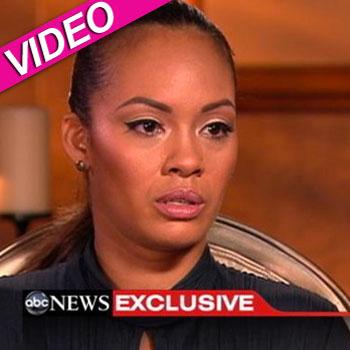 By Debbie Emery - RadarOnline.com Reporter
Following a three-week whirlwind where her life has literally been ripped apart and the man she trusted betrayed her in every way, Basketball Wives star Evelyn Lozada has bravely opened up about the explosion of her short-lived marriage with Chad "Ochocinco" Johnson.
"It's the hardest thing in the world to walk away from someone that you really love," Lozada told ABC's Nightline in an exclusive interview that will air on Friday night. "But you have to walk away because I have to protect myself.
Article continues below advertisement
"I still love him… I feel bad for him because his life is now a mess."
As RadarOnline.com previously reported, Lozada filed for divorce from her NFL star husband after just 41 days of marriage following a violent incident on August 11 when he allegedly head butted her. The six-time Pro Bowl receiver was then arrested by Davie, Florida police and released from jail on $2,500 bond.
After being picked up by the Miami Dolphins earlier this year when the New England Patriots cut him, the wide receiver's contract was terminated by the team within 24 hours of the domestic abuse scandal, and not only is he off the team, publicity-hungry Johnson, 34, is also off the air because VH1 canceled the reality show Ev & Ocho about their Caribbean wedding that was set to air in September.
Wearing a simple navy blue dress with her hair pulled back in a simple pony tail, 37-year-old Evelyn was distraught but determined as she fought back the tears when asked if she can ever envision the day that she could sit down and speak with Chad, replying quietly: "No," admitting that even talking about it makes her emotional.
In a statement after Evelyn filed for divorce, the shamed football player proclaimed, "I truly love her to death," and his estranged wife doesn't dispute that. "I believe he loves me. I believe he needs to get help," she said loyally. "He's a good guy that made a bad choice.
Article continues below advertisement
"He loves football and he's very driven and a great dad. He made a bad choice that destroyed his life, and I hate that I'm connected to that."
Evelyn went on to reveal the details of that fateful day on August 11 when while taking groceries out of the car that Johnson used to drive to football practice she found a bag in the backseat with a toothbrush holder and a Walgreens receipt for a box of condoms inside, dated July 20, she said, three weeks after they were married.
She confronted him in his car later that evening and threatened to leave him, with terrifying results. "And then the next thing I know, he grabbed me by here pointing to her head and he head-butted me," Lozada said. "I felt blood coming down my face… and I looked at him and I said, 'You just head-butted me?' And it just -- everything just felt if it was in slow motion."
She tried to calm him down but Chad got even angrier over the accusation and claimed he didn't do anything wrong. "He was gone to me, like, it wasn't him," she said. "He got out of the car, really, really quick and ran into the house, and I said to myself, 'I need to get out of here.'"
Article continues below advertisement
Terrified Evelyn then ran to a neighbor's house and called the police. She was later taken to hospital and received six stitches on her forehead.
Adamant not to become a repeated victim of abuse, the reality star steadfastly decided she is done with him for good. "I said to myself, 'I'm never going to go through that again, ever,'" she revealed. "I don't think any woman should ever have to feel like that or be fearful of her husband."
While Lozada has taken the high road and refused to talk about the incident until now, Twitter-holic Johnson has been tweeting his regrets on the social networking site.
"Don't feel bad, my black ass messed up, I made the bed now I gotta lay in it," he responded when one loyal follower said they felt sorry for him. "When you're the first to laugh at yourself everybody else's laughs don't bother you."
Article continues below advertisement
"That awkward moment when you realize you're not on Madden13 and have to create yourself…" the six time Pro Bowler wrote on Wednesday when he broke his silence, referring to the iconic video game cover that features the most highly anticipated NFL player of the year.
When asked why he deleted his Twitter bio, Chad, 34, replied: "I got to start life over and create a new one."
Chad's desperation to be constantly in the public eye – he even live tweeted on their wedding day! - has prompted some skeptics to accuse the couple of getting married for really TV show ratings, which Evelyn strongly denies.
"I was a very good fiance and wife to Chad. I did everything I could to make his life better," she told Nightline. "The person on Basketball Wives is not the person at home. I don't think he would marry me if I was."
Evelyn hid out at a friend's house in Miami after the attack and spent last week relaxing in Barbados on a much-needed vacation, and said she hasn't been back to the couple's home since the incident as she believes that being away from Chad is the "right thing" for both of them.
Article continues below advertisement
Lozada's determination to cut ties with her wayward ex comes in light of exclusive revelations by RadarOnline.com that the shamed NFL player had been cheating on her with a string of mistresses that he met on Twitter, including a stripper whose rent he was paying and a woman whom he flaunted at his local hangouts and high school football reunion.
Evelyn's exclusive interview with Nightline will air on ABC on Friday night at 11:35 p.m.